Last week, we landed in Savannah, Georgia for SHRM Inclusion. 
It's an event that brings together a diverse group of attendees, speakers, and solutions providers with the same goal: to create better workplaces where all employees act with civility, are made to feel as if they belong, and have opportunities to thrive.
EditMate was thrilled to exhibit in the Marketplace, chat with HR leaders from across the country, and learn about topics like the future of DEI, how to recruit & retain an inclusive workforce, and inclusion in tech. 
Before we dive into what we learned at the event, let's define an important term:
What is "Inclusion"?
Inclusion in this context refers to the practice of ensuring that all employees, regardless of their background, characteristics, or identities, feel valued, respected, and empowered to contribute to the organization's success. 
This concept goes beyond diversity, which focuses on representation, to emphasize creating an environment where individuals from various backgrounds are fully integrated into the workplace.
By actively promoting inclusion, businesses can better position themselves for success in an increasingly diverse and interconnected world.
Inclusion covers so many areas of an organization and it was very interesting to see job titles beyond DE&I having a presence at the event, including Talent Acquisition, Human Resources, Internal Communications, On-Boarding and Branding.
And now, here are the Top 8 things we learned at SHRM Inclusion:
1. Inclusion is a critical business objective
To make the best decisions and perform at the highest level, the agenda of inclusion must be something that is owned across the C-suite. 
The Future of DEI panel which included Michelle Burgess, Director of Inclusion & Diversity at Coca-Cola Southwest Beverages, Mike Fenlon, Chief Future of Work Officer & EJ Dickerson, CEO Action for Diversity & Inclusion Strategy at PwC, and Jim Link, the CHRO of SHRM talked specifically about building empathetic cultures where people can thrive.
They detailed how an inclusive culture itself is important but it also has to work within a culture of innovation, a culture of learning, and a culture of collaboration to develop and foster a healthy and effective organization. 

2. Emotional Intelligence is a necessity for HR leaders
Just like at the HR Tech event we attended earlier in the month, the concept of emotional intelligence was something that kept coming up in keynotes and discussions. 
Bethany J. Adams, an HR Educator at Villanova University led a keynote about emotional intelligence and how it's a set of skills that can be learned or improved over time. 
She shared how emotional literacy, agility, and courage were key emotional intelligence skills that are necessary for leading inclusion. 
Here are some of the takeaways from Bethany's keynote: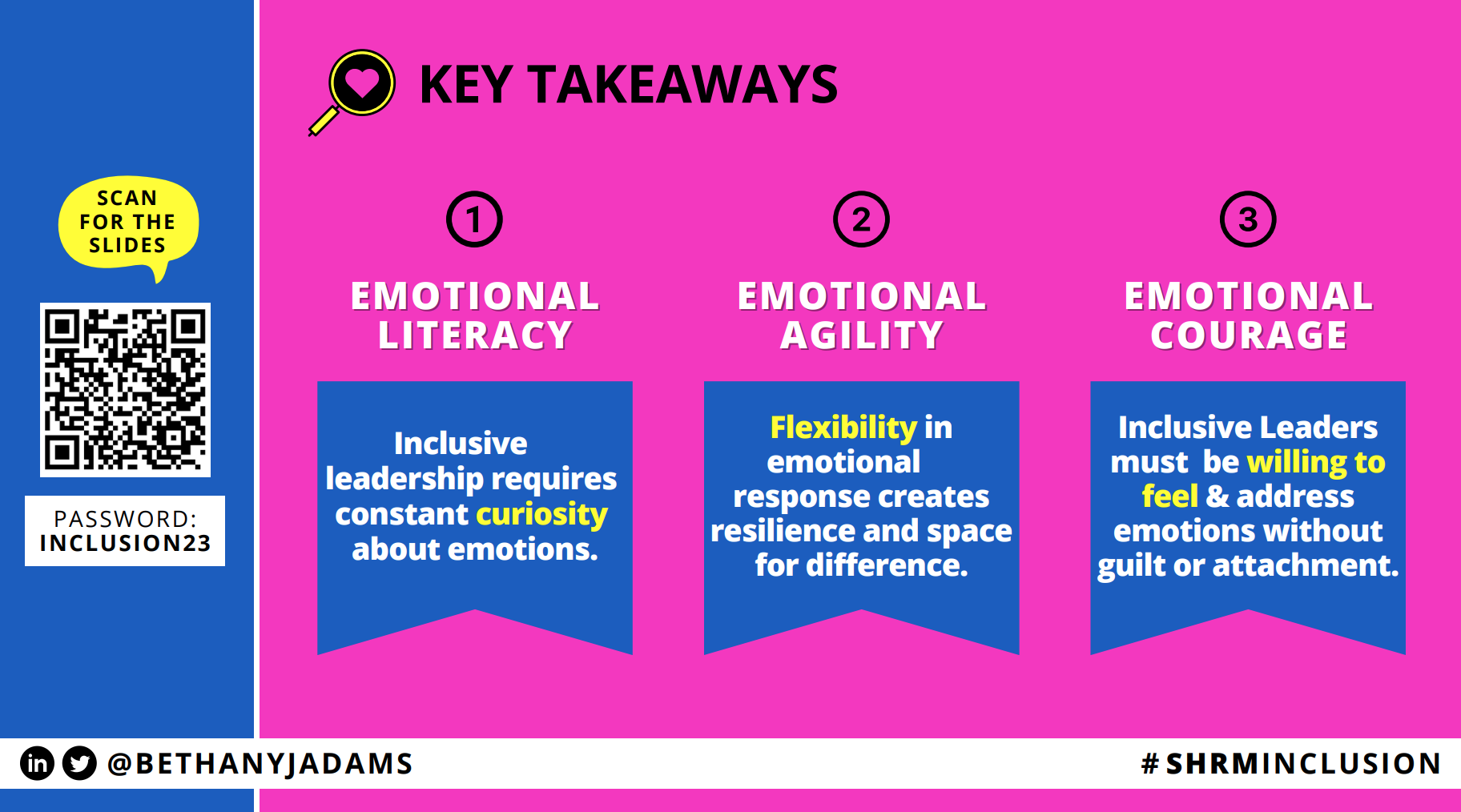 SHRM's President & CEO Johnny C. Taylor Jr. also posted this graphic on LinkedIn that does a great job of illustrating emotional intelligence: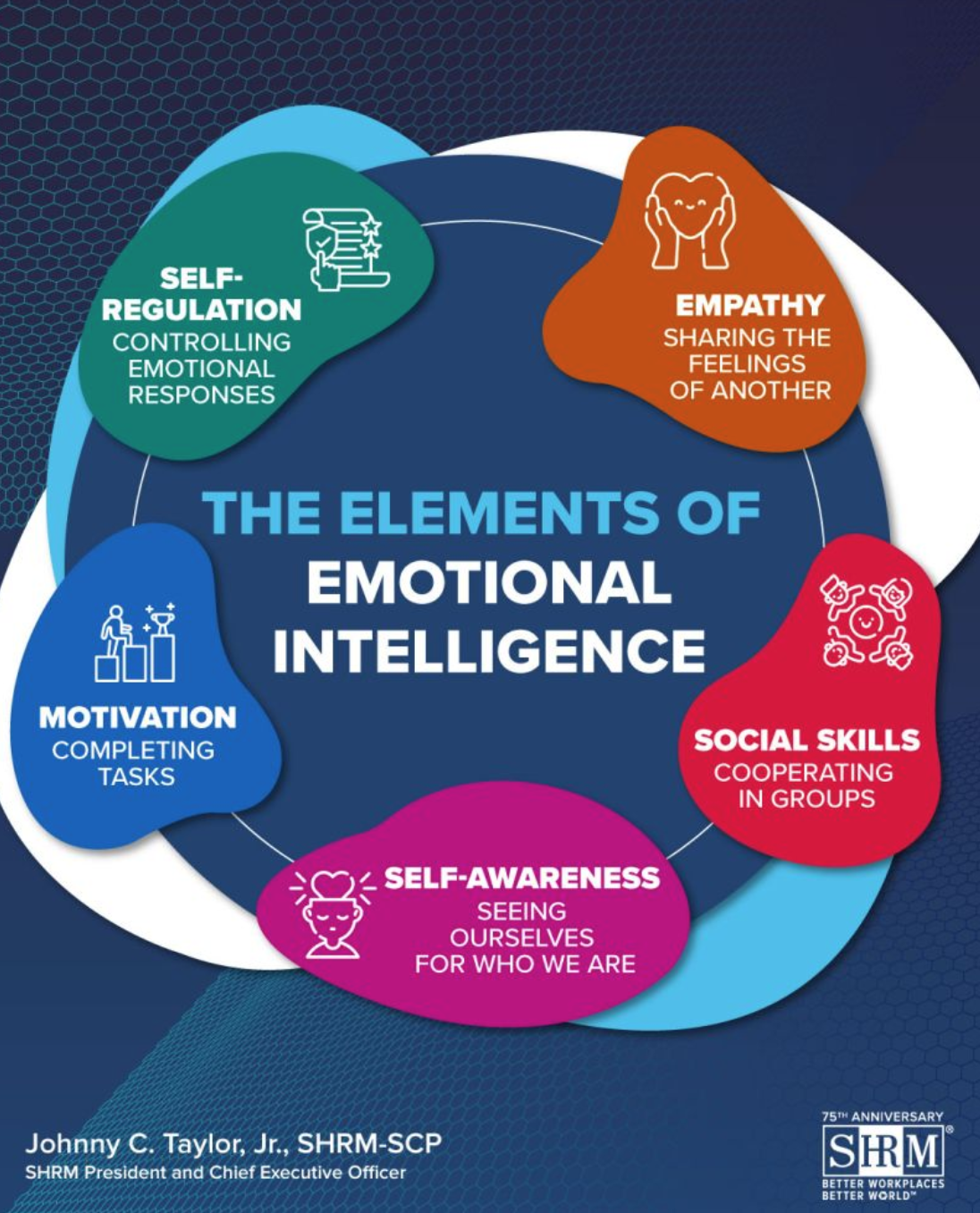 3. There is both a psychological AND a business case for inclusion
Inclusion obviously leads to outcomes that affect an employee's psychological experience at work. It enables dialogue, civility, mutual respect, trust, and psychological safety. 
In fact, at an afterparty hosted by Inclusivv we did a deep dive into the concept of psychological safety. 
We discussed how inclusion enables psychological safety and a better workplace experience, where employees feel that their voices are heard, respected, and valued.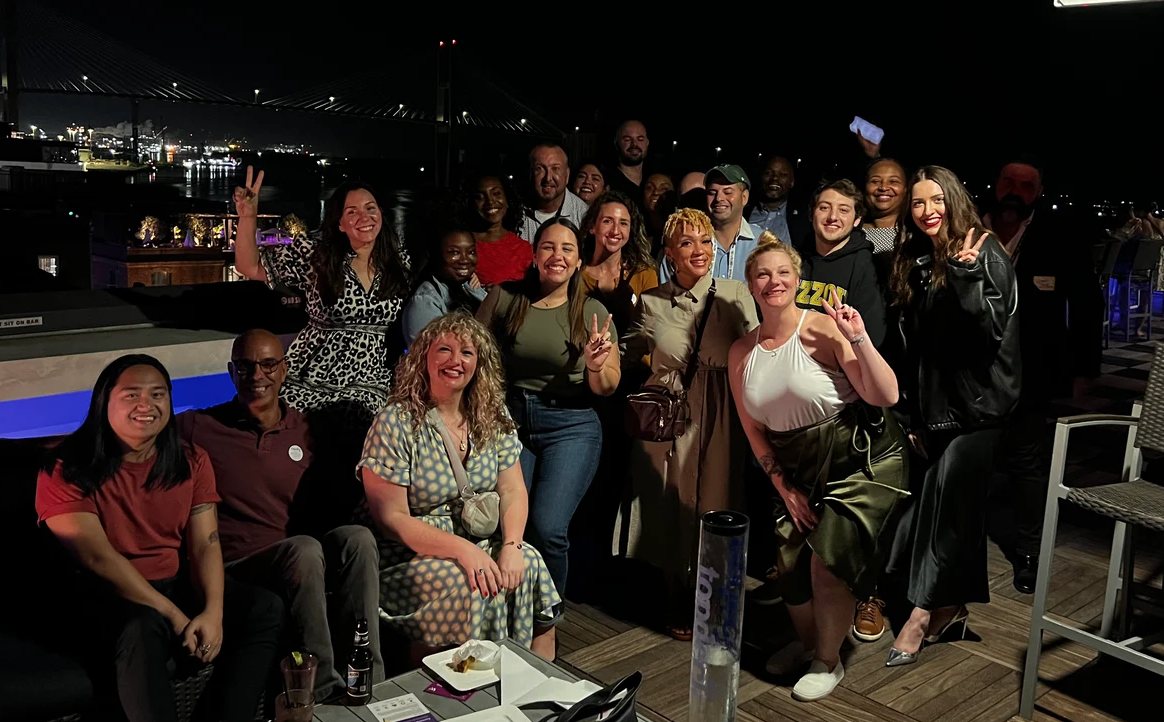 Shout-out to Inclusivv for organizing an afterparty where we got to join a group of strangers to have genuine, heartfelt discussions around challenging topics. And who doesn't love a roof deck? 
But beyond that, inclusion actually leads to better business outcomes including:
Improved organizational performance

Increased profitability

Better problem solving

Better talent attraction

Reduced turnover

Enhanced innovation

Increased marketshare

A stronger, more resilient corporate culture
4. LinkedIn continues to grow as a useful social platform for HR and Employer Brand Leaders
Roy Abdo of Digital Revamp led an incredibly useful session on establishing a personal or executive brand on LinkedIn. 
He shared how people prefer to follow other people rather than companies on LinkedIn (for example: Ariana Huffington has 10 Million followers, while her new company Thrive Global only has 260K followers) so a personal brand can be both an impactful marketing and recruiting tool: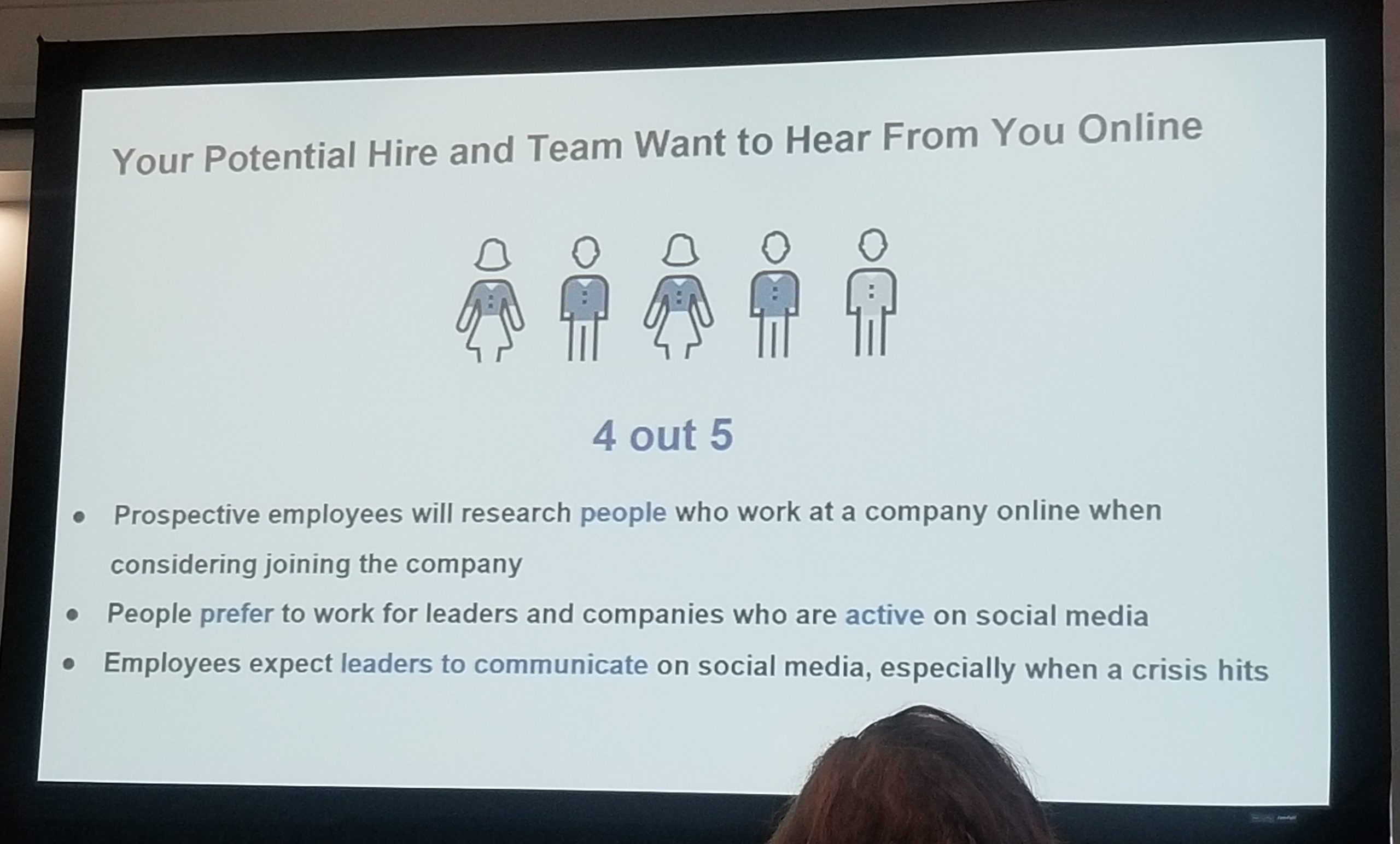 Roy also gave a wealth of actionable tips on how to get to know your target audience, the best tools to use, thought leadership frameworks to follow, and the best ways to leverage Chat GPT. 
Which brings us to….
5. AI is the next revolution
Like the industrial revolution, the internet revolution and the social media revolution, AI is the next big thing that is predicted to completely transform how businesses operate. 
The organizations that are proactive about this and find ways to leverage AI in positive ways that can help both their customers & employees are the ones who will succeed. 
6. Inclusion does no harm
While there's been a strange backlash to DEI efforts in the press this year, it's necessary to remember that the concept of inclusion does no harm. 
Prioritizing inclusion would never hurt an organization, it will only benefit it. 
As Cecilia Stanton Adams explains:
 "The hard data often paints a sobering picture of where we stand on DEI goals. Whether it's the scant number of Black CEOs in the Fortune 500 or the lack of gender diversity in tech, data serves as a cornerstone for action." 
And prioritizing inclusion is an action that all organizations should be taking, to ensure its success. 
7. Everyone wants to see authentic proof
Younger workers are calling out companies at a level that has never happened before. Accountability is being called into question and the traditional approach to employer/employee relationships is rapidly evolving.
So, being able to show proof and ROI for an inclusion strategy is vital but proving to be a challenge for many attendees we spoke to. It involves a lot of nuances and conversations that don't immediately have a tangible output that is measurable
But video content is measurable and many of the HR Leaders we spoke to were excited about EditMate, as a tool they could use to share their inclusive cultures at scale, connect their employees (no matter where they're working from), and amplify the voices of their colleagues.
And "authenticity" was a word that was repeated again and again, as what mattered most to their DE&I and employer brand strategy.
It was most organizations we spoke with feel they are lacking as far as telling their inclusion and culture narratives publicly.
8. Savannah, Georgia is SO beautiful
Each day we got to walk along cobblestone streets under trees covered in Spanish moss to catch a ferry (!) to the Savannah Convention Center on Hutchinson Island for the event.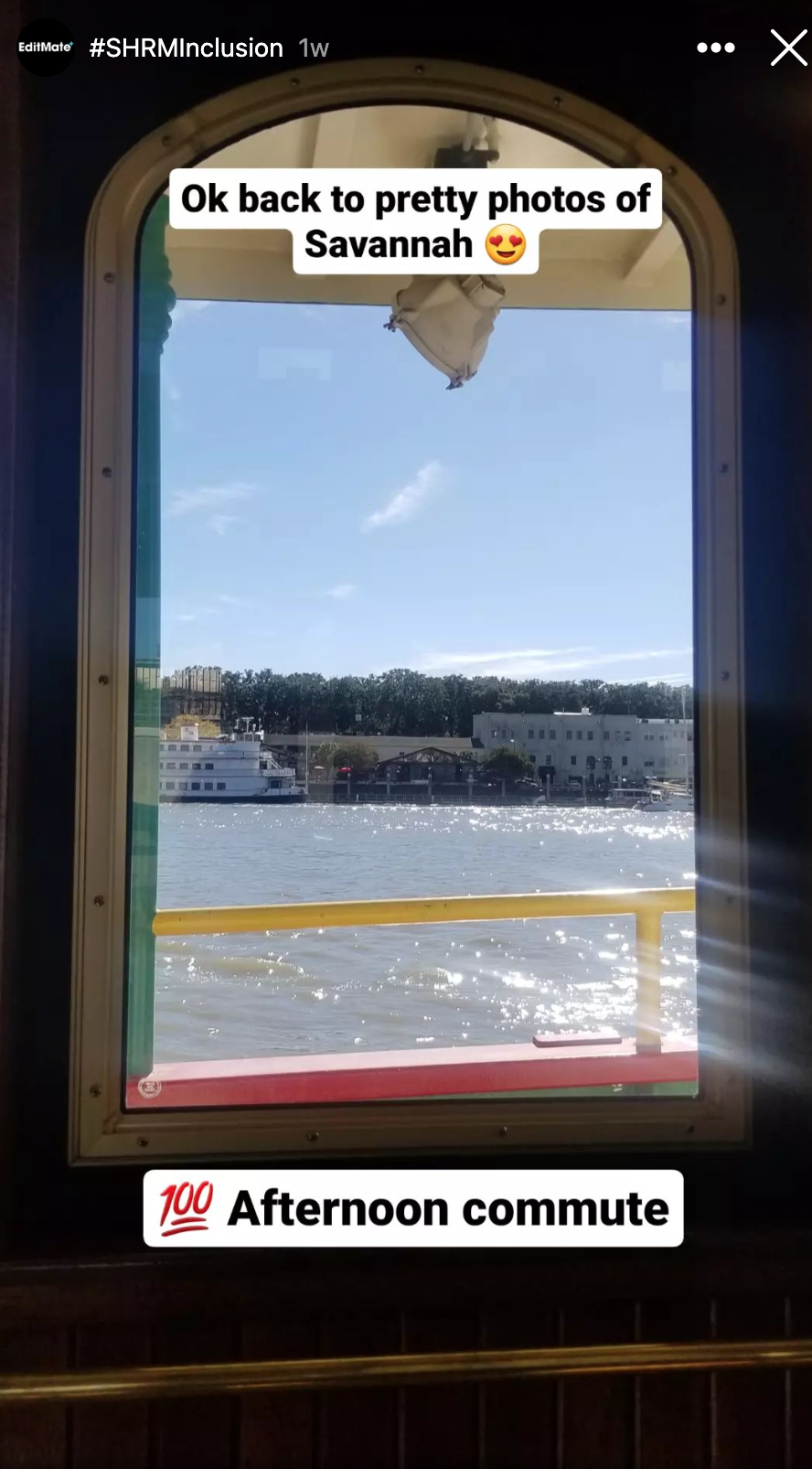 It couldn't have been a more charming conference experience. 
See the visual evidence on EditMate's InstaStories here. 
In conclusion, SHRM Inclusion was a fab event where we learned a lot. 
More and more, we're seeing organizations and HR leaders use EditMate to create video content that shows off their inclusive workplaces and promotes their DEI&B efforts.
Because content like that is proving to be incredibly effective for promoting your employer brand, attracting talent, and keeping colleagues feeling connected. 
So this event was an awesome opportunity to learn about where the DEI&B space is headed and get inspired to think about how we can continue to refine EditMate to help our customers create more and more employer brand video content with inclusivity in mind. 
Learn how EditMate can help your organization create authentic employer brand videos here.