Want to get a jump start on your social media content?
Get our free 2022 Social Media Holiday Calendar to get a whole year's worth of ideas for posts.
We've designed it with photos of EditMate's native land (the eternally photogenic New Zealand) and included heaps of traditional holidays, corporate-y holidays, and just-for-fun holidays to give you inspiration for highly shareable social media posts all year long.
Scroll down to see the holidays for each month listed out and CLICK HERE TO DOWNLOAD a free PDF of the full calendar!
Get ready to celebrate Community Manager Appreciation Day, LGBTQIA+ Pride Month, and National Puppy Day — and use this calendar to outline your video marketing plan for 2022!
Happy planning!

January 2022
January 1: New Year's Day
January 4: National Trivia Day
January 6: National Technology Day
January 13: Clean Off Your Desk Day
January 17: Martin Luther King Jr. Day
January 20: Cheese Lovers Day
January 21: Get To Know Your Customers Day Q1
January 24: National Compliment Day
January 25: Community Manager Appreciation Day

February 2022: Black History Month
February 2: Groundhog Day
February 4: World Cancer Day
February 8: Clean Out Your Computer Day
February 9: National Pizza Day
February 14: Valentine's Day
February 15: Family Day
February 17: Random Acts Of Kindness Day
February 18: National Drink Wine Day
February 20: Love Your Pet Day
February 20: World Day of Social Justice
February 22: National Wildlife Day
February 28: National Skip The Straw Day

March 2022: Women's History Month
March 1: National Peanut Butter Lover's Day
March 3: World Wildlife Day
March 5: Employee Appreciation Day
March 8: International Women's Day
March 9: National Napping Day
March 10: National Pack Your Lunch Day
March 14: Pi Day
March 17: St. Patrick's Day
March 20: Spring Begins
March 20: International Day of Happiness
March 21: Elimination of Racial Discrimination Day
March 23: National Puppy Day
March 27: Earth Hour Day
March 31: International Transgender Day Of Visibility #TransDayOfVisibility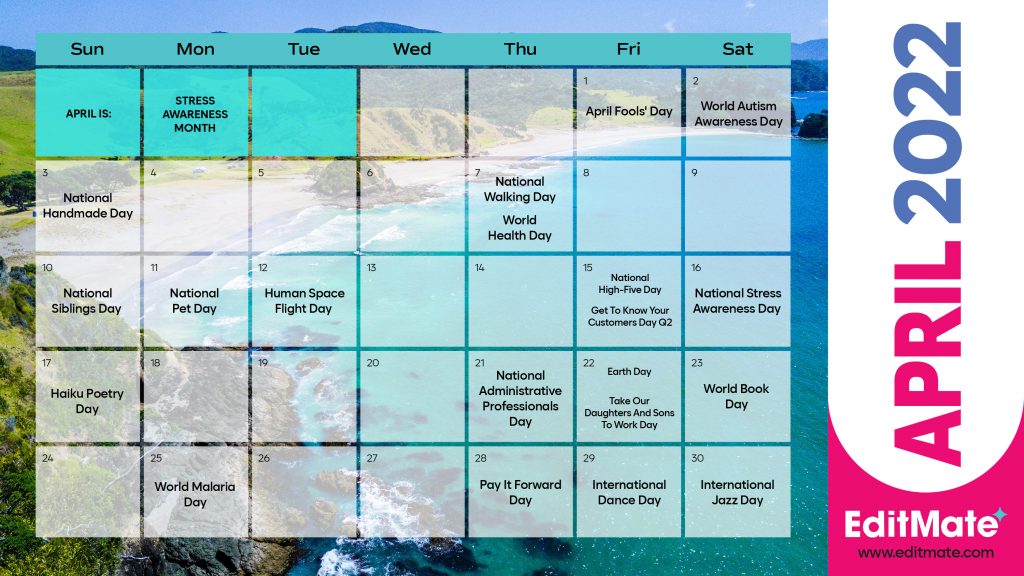 April 2022: Stress Awareness Month
April 1: April Fools' Day
April 2: World Autism Awareness Day
April 3: National Handmade Day
April 7: National Walking Day
April 7: World Health Day
April 10: National Siblings Day
April 11: National Pet Day
April 12: Human Space Flight Day
April 15: National High-Five Day
April 15: Get To Know Your Customers Day Q2
April 16: National Stress Awareness Day
April 17: Haiku Poetry Day
April 21: National Administrative Professionals Day
April 22: Earth Day
April 22: Take Our Daughters And Sons To Work Day
April 23: World Book Day
April 25: World Malaria Day
April 28: Pay It Forward Day
April 29: International Dance Day
April 30: International Jazz Day

May 2022
May 1: International Workers Day
May 4: Teachers' Day
May 5: Cinco de Mayo
May 6: National Nurses Day
May 7: World Password Day
May 8: Mother's Day
May 12: National Receptionist Day
May 15: International Day of Families
May 16: National BBQ Day
May 17: Day Against Homophobia & Transphobia #
May 20: National Bike To Work Day
May 24: National Road Trip Day
May 28: Hamburger Day
May 30: National Creativity Day
May 31: Memorial Day

June 2022: LGBTQIA+ Pride Month
June 1: Global Day of Parents
June 2: Leave The Office Early Day
June 2: National Running Day
June 4: National Donut Day
June 5: World Environment Day
June 6: Higher Education Day
June 8: World Oceans Day
June 13: International Children's Day
June 14: Flag Day
June 19: Juneteenth
June 21: National Selfie Day
June 24: National Handshake Day
June 25: Take Your Dog to Work Day
June 27: National Sunglasses Day
June 29: National Camera Day
June 30: Social Media Day

July 2022: National Ice Cream Month
July 1: International Joke Day
July 2: World UFO Day
July 4: Independence Day
July 5: National Workaholic Day
July 7: World Chocolate Day
July 12: Malala Day
July 15: Get To Know Your Customers Day Q3
July 17: World Emoji Day
July 18: Nelson Mandela International Day
July 22: National Hammock Day:
July 25: Parents' Day
July 26: Disability Independence Day
July 30: International Day of Friendship
July 30: Talk in an Elevator Day
July 31: National Mutt Day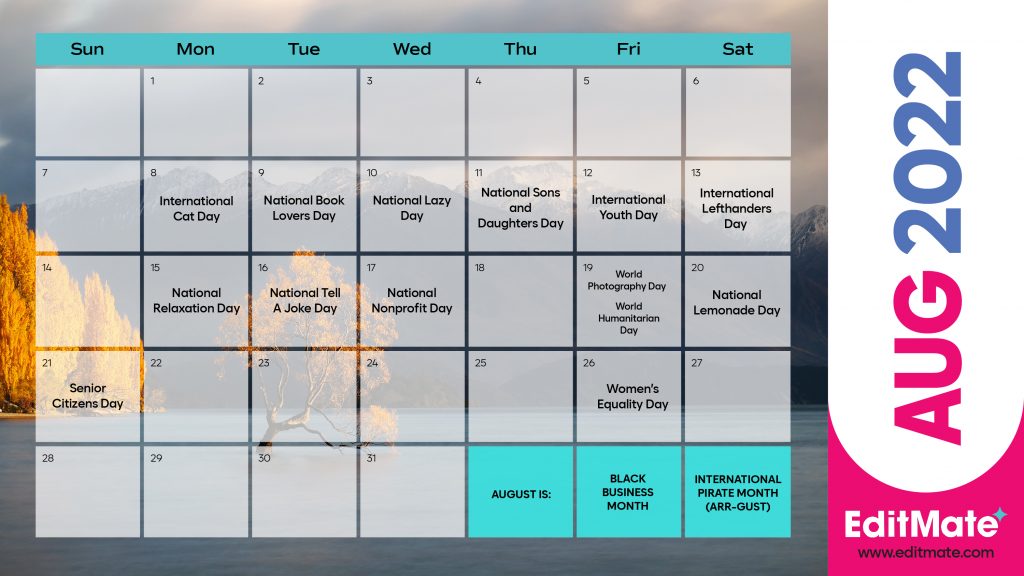 August 2022
August 8: International Cat Day
August 9: National Book Lovers Day
August 10: National Lazy Day
August 11: National Sons and Daughters Day
August 12: International Youth Day
August 13: International Lefthanders Day
August 15: National Relaxation Day
August 16: National Tell A Joke Day
August 17: National Nonprofit Day:
August 19: World Photography Day
August 19: World Humanitarian Day
August 20: National Lemonade Day
August 21: Senior Citizens Day
August 26: Women's Equality Day

September 2022: National Hispanic Heritage Month
September 4: National Wildlife Day
September 5: International Day of Charity
September 6: Read A Book Day
September 8: International Literacy Day
September 10: Stand Up To Cancer Day
September 11: National Day of Service and Remembrance
September 12: Grandparents Day
September 15: Online Learning Day
September 19: International Talk Like A Pirate Day
September 21: International Day Of Peace
September 22: American Business Women's Day
September 26: European Day of Languages
September 27: World Tourism Day
September 28: National Good Neighbor Day
September 29: National Coffee Day
September 30: International Podcast Day

October 2022: National Breast Cancer Awareness Month
October 1: World Vegetarian Day
October 2: Day of Nonviolence
October 3: National Techies Day
October 4: World Animal Day
October 5: World Teachers Day
October 10: World Mental Health Day
October 11: International Day Of The Girl
October 11: Indigenous Peoples' Day
October 13: National Train Your Brain Day
October 14: National Dessert Day
October 16: National Boss's Day
October 17: Eradication of Poverty Day
October 18: Clean Your Virtual Desktop Day
October 20: World Statistics Day
October 21: Get To Know Your Customers Day Q4
October 24: United Nations Day
October 25: Greasy Foods Day
October 28: National Chocolate Day
October 29: National Cat Day
October 30: Checklist Day
October 31: Halloween

November 2022
November 1: World Vegan Day
November 3: National Sandwich Day
November 4: National Candy Day
November 8: National Cappuccino Day
November 8: STEM Day
November 10: Forget Me Not Day
November 11: Veterans Day
November 13: World Kindness Day
November 14: World Diabetes Day
November 15: America Recycles Day
November 17: International Students Day
November 20: Universal Children's Day
November 21: World Hello Day
November 24: Thanksgiving
November 25: Black Friday
November 26: Small Business Saturday
November 28: Cyber Monday
November 29: Giving Tuesday

December 2022
December 1: World AIDS Day
December 3: Persons with Disabilities Day
December 4: National Cookie Day
December 5: World Soil Day
December 8: National Bartender Day
December 10: Human Rights Day
December 11: International Mountain Day
December 21: First Day of Winter
December 24: Christmas Eve
December 25: Christmas
December 26: Boxing Day
December 31: New Year's Eve