If producing a user-generated video campaign sounds intimidating to you, fear not: EditMate is here to help. This blog post will explain the advantages of crowdsourcing user-generated video, walk you through each step of creating a successful user-generated video campaign and share hot tips on how to streamline the entire process. 
Getting started with video marketing may seem intimidating…
Do you need fancy cameras and lighting equipment? Do you need to write scripts and hire a hair and makeup artist?
Since you assume video content creation is a long, complicated process, you probably don't even get started… OR you end up outsourcing it to a super expensive agency.
But there's a better way.
A way to not only create video content quickly and easily but also connect with your audience while you do it.
And that's by crowdsourcing user-generated videos…
Why crowdsource user-generated videos?
Nowadays, brands need user-generated content (UGC) to thrive in the digital marketplace.
84% of millennials report that UGC on a company's website influences their purchasing decision.
And user-generated VIDEO is the new frontier in UGC.
Crowdsourcing is the collection of information, opinions, or work from a group of people (usually via the internet). And it can help you connect with your customers and engage with your audience on a more personal level.
A giant benefit of crowdsourcing user-generating videos is that it can be inexpensive AND low-maintenance.
And the key to maximizing the power of crowdsourcing your user-generated content is curation.
As BBC researcher Solomon Wilkinson said in an interview with Adobe:
"It's about knowing where to put it and in what form. Brands have to apply a lot of careful thought and editorial judgment to craft a narrative out of the content."
HOT TIP: When planning a user-generated video campaign, remember the 3 C's: crowdsource, curate and craft. Crowdsource and curate user-generated videos to craft authentic marketing content.
Crowdsourcing and Curating User-Generated Videos
You probably already have a solid understanding of the type of content that your target audience likes.
Start with an idea that you think will get the attention of your current audience members AND attract new ones:
What topics are your customers interested in?
What information are they already searching for online?
Of those subjects, which are relevant to your brand?
When you're first starting to experiment with user-generated videos, contests or competitions are a great way to encourage your community to participate.
Offer free giveaways or prizes for the best videos submitted and watch the videos come rolling in.
Once you get momentum and your audience sees how others have contributed, they'll want to get involved, too.
From there, you can pick and choose the best videos submitted and craft them into an authentic piece of video marketing content.
Planning a User-Generated Video Campaign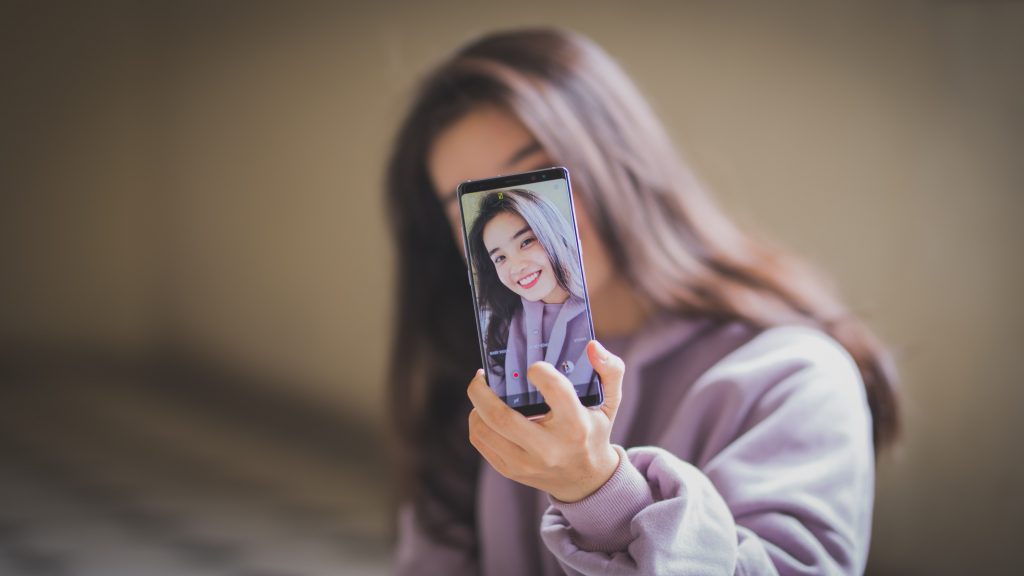 As an example, let's say you want to launch a campaign about wellness practices when working remotely.
You can ask your employees and customers about the self-care rituals they practice while working from home. They can then shoot and submit short videos using their phones.
HOT TIP: You'll want to provide basic guidelines for submissions, but remember, the key to the impact of user-generated videos is authenticity. So know that it's okay for the videos to be less than perfect. People like to see real-life human beings that they can trust and relate to — not perfectly lit, scripted actors.
Now for the next step: how should you collect the videos?
It's important to make this process as simple and streamlined as possible for contributors.
EditMate makes it super easy with our Uploader tool, which is free for anyone to use. It's a 100% public web application and a downloadable mobile app where all you need to do is enter your project's hashtag, select the videos you want and click upload.
HOT TIP: When anyone uploads a video to the EditMate Uploader, they tick a terms & conditions box that gives your business the rights to use that video — so don't worry about having to write up content waivers and chase permissions. We handled it for you!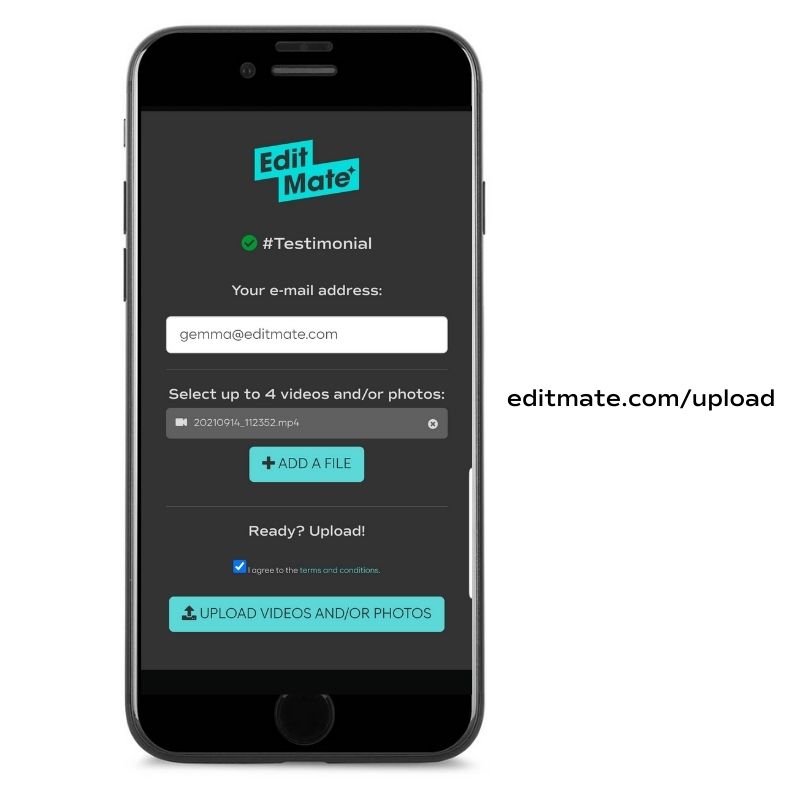 If you already have an existing email list of people you would like to invite to submit videos, you can send them "Mobile Crew" invitations from the EditMate Dashboard. Those users can simply click on the link to access the Uploader and add their own videos.
This is an especially handy feature now in the era of remote work. You can collect videos from anyone, anywhere in the world as long as they have an internet connection.
We also recommend spreading the word about your campaign by putting a call out on your social media networks. Ask your followers to contribute by including your project's hashtag and a link to your Uploader, like this: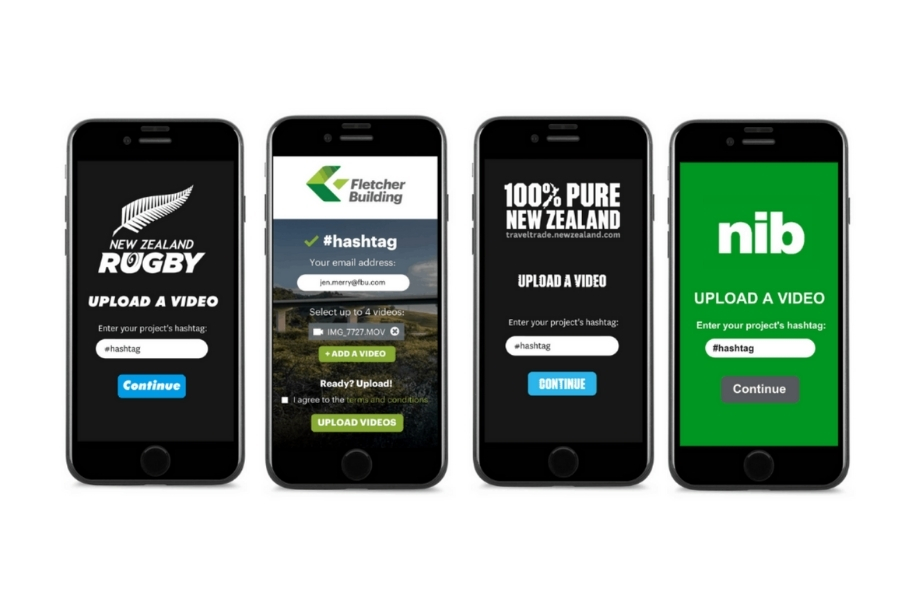 Crafting a Piece of Video Marketing Content from User-Generated Videos
When you're using EditMate, all of the videos submitted through the Uploader will land in the corresponding project on the EditMate Dashboard.
Here, you can easily review, rate, and comment on the clips and collaborate with your team to curate which videos you want to use and share with the public as marketing content.
But as BBC researcher Solomon Wilkinson said, you want to now "craft a narrative out of the content".
That means, editing those clips into a cohesive piece of marketing content that's not only on-brand but also aligns with your marketing strategy and maximizes your ROI.
This is where EditMate's Video Editing Service comes in.
Simply click the "Request an Editor" button on your project and a vetted, professional Video Editor from our team will be assigned to your project to help you create exactly what you need.
Your Editor can create a cohesive story from your user-generated videos. They'll add music, graphics, logos, voiceovers, captions, and more. Everything needed to craft an on-brand, effective video.
HOT TIP: Learn our best practices for How to Work with a Video Editor.
As you can see, EditMate streamlines the 3 C's: crowdsourcing, curating and crafting a user-generated video campaign. 
Much easier than hiring a fancy camera crew and writing a script, right?
And in the end, you'll have an awesome video that's ready to share.
Crowdsourcing user-generated videos is a way to bring people together.
The goal is to create more personal connections that show your audience that you understand them and can engage with them in a meaningful, authentic way. This type of content not only boosts sales by attracting customers but it also strengthens brand loyalty with your existing audience.
Start connecting today with a user-generated video campaign, powered by EditMate.