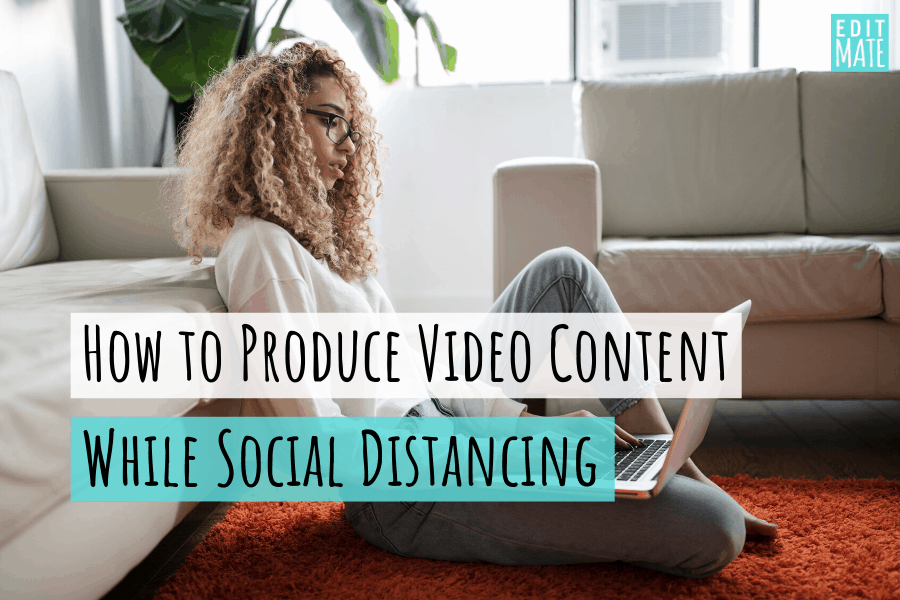 How to Produce Video Content While Social Distancing
In the midst of a global pandemic, it's a weird time to be marketing or growing a business.
There's a lot of uncertainty about the future and there's a lack of motivation when there's a literal crisis happening. It's easier to keep refreshing cnn.com while panic eating popcorn (…You too? No? Hmm. Just me then.)
But business owners and marketing teams can't stop working.
Their companies, colleagues and community (and in a greater sense, the economy) depend on people continuing to work and keep things afloat, the best they can.
And the best workers know that now is the time to adapt.
If you're lucky enough to be able to work from home, you've probably realized that you need to create content in a different way than ever before.
Live video has proven to be an effective medium to help businesses stay connected while social distancing (thanks to tools like Zoom and Google Hangouts) and recorded video is another excellent way to connect with your customers and colleagues.
While you may not be able to organize a video shoot anytime soon, here are 3 creative and cost-effective ways you can create video content while social distancing:
1. Collect User-Generated Video
People are on their laptops and mobile phones now more than ever… so turn your brand's community into a film crew. Ask them to shoot and record videos from home and cut authentic, branded videos from the footage. 
Here are a few ideas:
Have your now remote team share their best tips on working from home
Ask company leaders to share important announcements and words of encouragement on video
Run contests for your customers to upload videos about topics related to your product/service
Here's are 2 user-generated videos The International Travel College of New Zealand and The Crohn's and Colitis Foundation created using EdiMate:
ITC staff shared messages of support and encouragement to their students who will now be studying from home while New Zealand is in a national lockdown over the next 4 weeks. 
The Crohn's & Colitis Foundation collected candid videos from their community about what's it's like to live with IBD for their Awareness Week campaign. 
>> ?HOT TIP: By using EditMate's products, anyone, anywhere in the world can upload videos directly to our Uploader at editmate.com/upload and they will land in the corresponding project on our Dashboard where they can be reviewed, rated and commented on. Learn more about our Uploader here. 
When you can't hire a camera person and the user-generated approach isn't a good fit, it's time to find a great editor and get creative with stock video.
Stock videos have come a looong way in the last 5 years and (nearly) gone are the days of cheesy, corporate stock videos.
Nowadays, there are great websites (both free and paid) that provide fresh, modern stock videos and photos.
>> ?HOT TIP: Here's a comprehensive list of our Favorite Stock Video Sites. 
And stock video can be particularly useful for explainer videos and product videos. Find the right stock video, add in a voiceover, graphics and music and bam: you've got yourself a polished, professional video.
Check out these 2 that our clients Yours, Mine & Ours and Hoffr created using EditMate's Video Editing Service:
Yours Mine & Ours created their first explainer video for their brand launch using stock video, a voiceover, royalty-free music and and graphics. 
Before the even had a live app, Hoffr utilized screenshots, stock video, voiceover and text graphics to create a professional explainer video. 
If you work for an established brand, look for old videos that you can cut up and utilize to create fresh, new marketing material.
Adding in a new music track and new messaging can completely refresh a video and with some clever editing, you can re-use that footage to connect with a whole new audience.
Additionally, cutting a full-length video down to shorter teaser versions (in different dimensions like square and rectangular) is a quick way to create multiple new videos out of 1 old video.
Plus, these are perfect for sharing across social media.
>> ?HOT TIP: Have lots of old videos and not sure what to even start? Check out our Video Editing Service and start a project today. We have a global network of professional video editors that are available on-demand to help… and they work from home!
See these examples of re-purposed or re-cut videos our Video Editing Service created for Spaceship Campervans and The Female Health Company:
Spaceship Caravans took an old video and re-edited it with new music to attract a different demographic looking for a different vacation experience. 
The Female Health Company used a 3 minute long video to cut short, square teaser versions to populate their Instagram channels. 
We hope our list has sparked ideas for how you can get creative with video, even while social distancing.
Whether you're an employee communications manager at a large company, in charge of marketing at a small business or a solopreneur who does everything for their business… remember that now is not the time to stop. 
Now is the time to adapt. 
So be compassionate and authentic with your messaging. Shift your strategy where it's necessary. And aim to create content that will be a helpful resource for your audience.
We hope that you can stay at home and use video to do all of that. ?
P.S. Want more ideas? Check out our friends Union Production's blog post on more ways to do Socially Distant Video.