2016 was a big year for us.
We launched our website, built the Video Uploader  gained new clients across 3 countries and learned a hell of a lot in the process.
As we wrap up 2016, we thought we'd look back on our first year in business and recap some of the highlights:
Let's start from the very beginning…
JULY 2015
Coming from video and online advertising backgrounds, we noticed a gap in the market: more and more clients were coming to us with video footage they had shot themselves. They needed their amateur footage edited into a professional video to share on their social media channels. With the camera technology improving with every iteration of the iPhone, we felt like user-generated video was about to boom. Consumers were already embracing shooting video for SnapChat and Periscope. We knew businesses wouldn't be far behind…
With Rachel in Boston, USA and Scott in Auckland, NZ we brainstormed via WhatsApp and came up with an idea for an "online video editing service" that could turn raw footage into polished, professional marketing material.
We called it EditMate.
AUGUST 2015
Our first video with JUCY Campervans
Meeting up in Los Angeles, we decided to test-drive our idea by creating a brand video for JUCY Rentals. Always up for a surf trip, we offered to make JUCY a video in exchange for using their van for 2 weeks. They signed on and we were psyched to see firsthand how our concept of shooting amateur video and professionally editing it into a social video could work.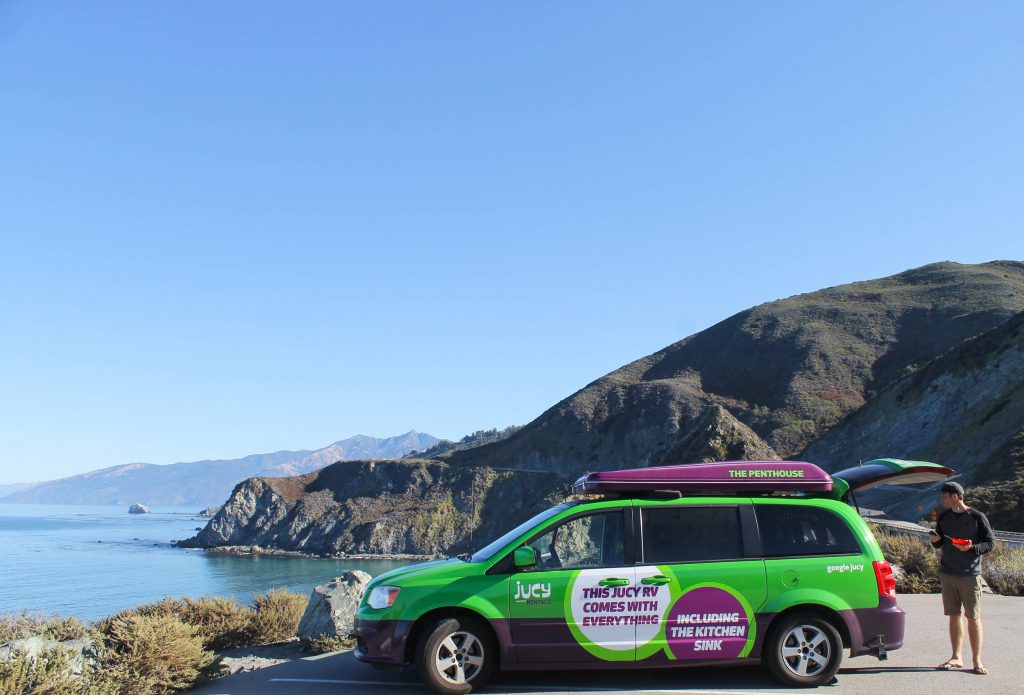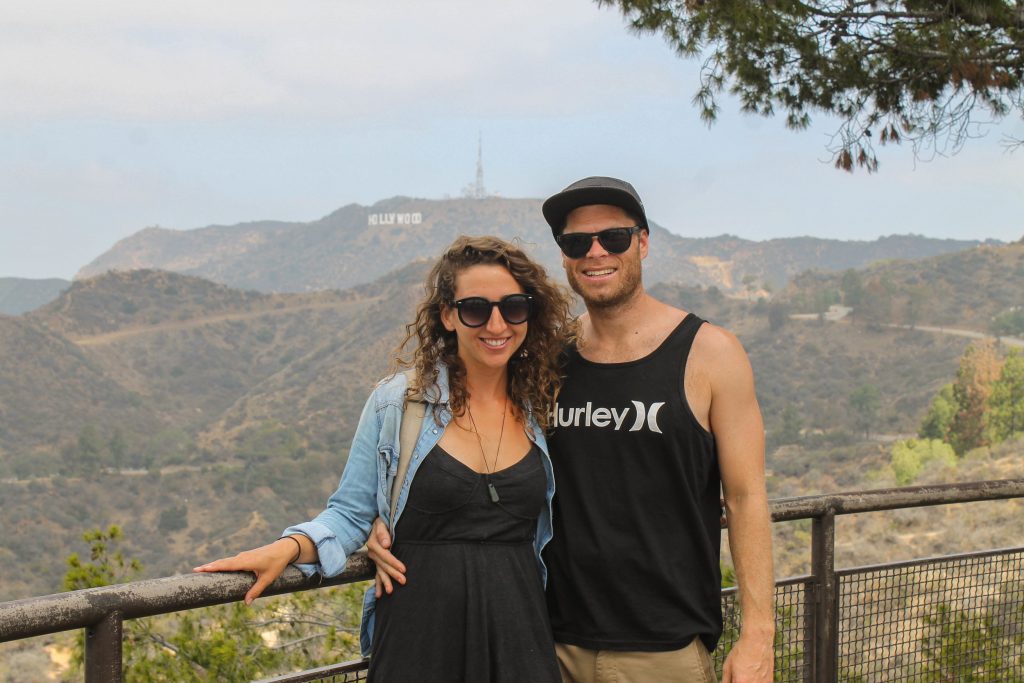 On the road with JUCY in California.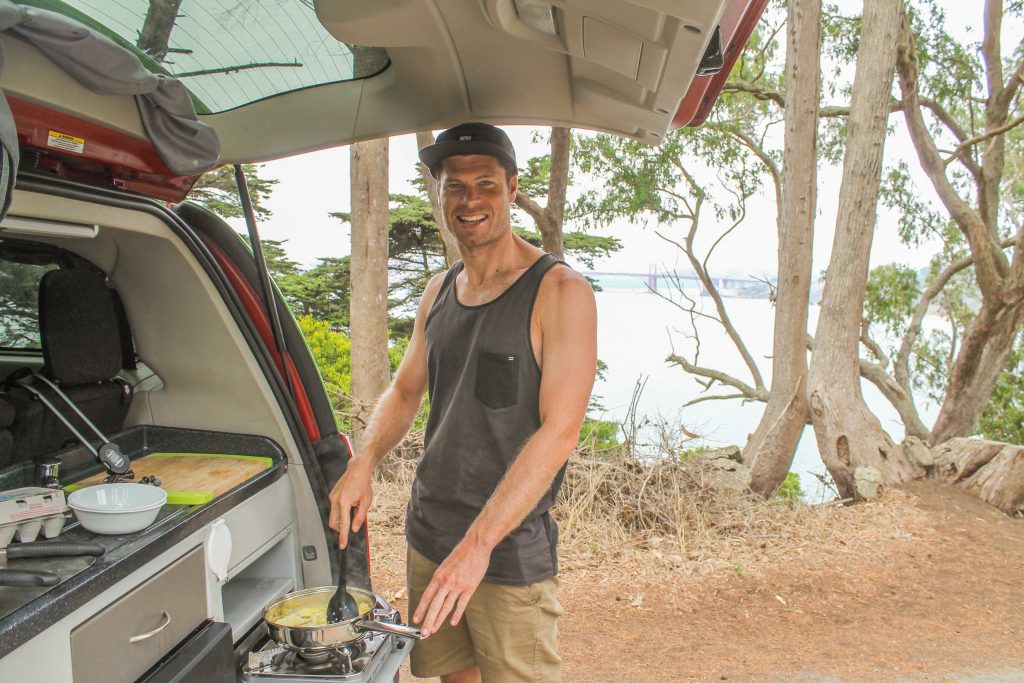 Full kitchen in the trunk!
SEPTEMBER 2015 – NOVEMBER 2015
Wanting to build EditMate on the cheap while chasing the sun and the waves, we flew to in Bali, Indonesia.
For 3 months, we hunkered down anywhere with wifi and figured out how to build our website, design a brand and even came up with the idea for the EditMate App in the process. We joined a co-working space in Canggu for wifi fast enough to upload videos, lived off of smoothies and fried rice, commuted to work via scooter, and took surf breaks over Uluwatu reef.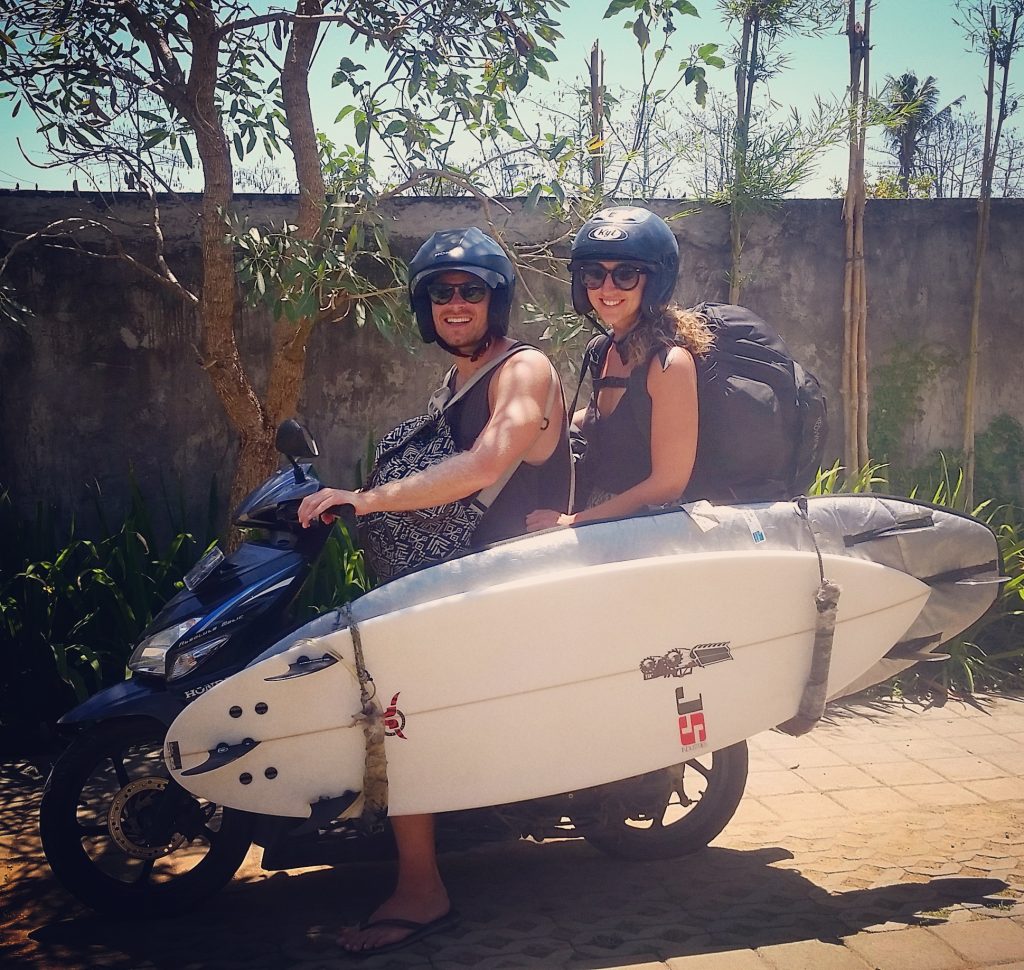 Different kind of work commute in Bali.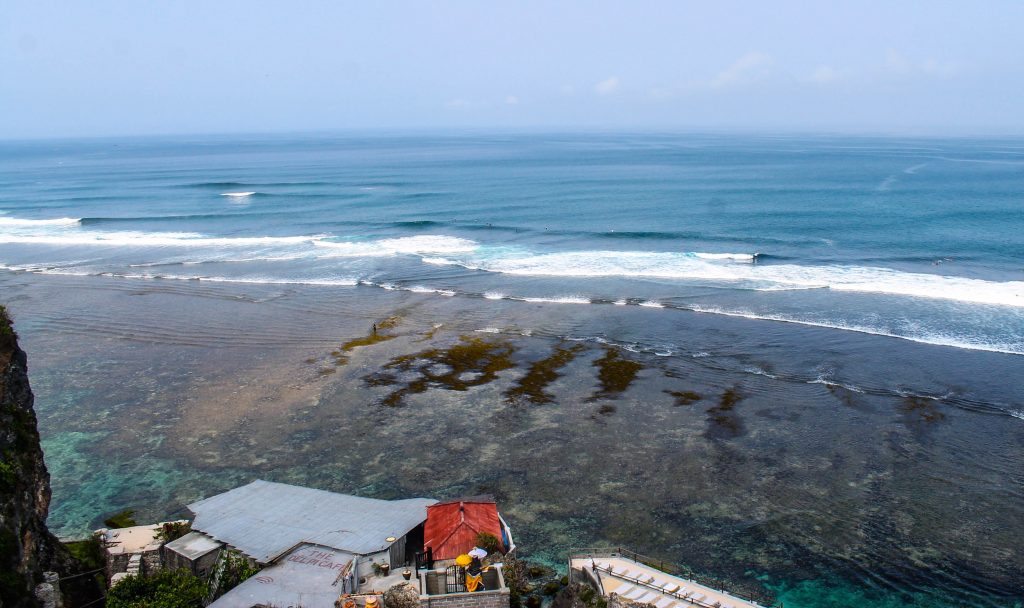 The view over the laptop, working in Uluwatu.
Simultaneously building our portfolio, we edited videos for Boston-based Brass Clothing and we even edited a video for a local Indonesian bakery. It was an epic 3 months and we were thrilled to emerge with nice tans and a working website.
An edit for Brass Clothing.
An edit for a local Indonesian bakery
DECEMBER 2015
From Bali we flew to Australia, where we got a crash course in SEO from Scott's sister in Perth (Thank you Bexee!) and began designing the EditMate app with Scott's developer friend in Melbourne (Thank you Cam!) We had a sunny Christmas and started to prep the official launch of EditMate.
JANUARY 2016
We kicked off the new year in Auckland, New Zealand by launching EditMate in "beta mode" as a super lean business. We were excited to tweak, change and expand our business model as we got feedback from more and more clients.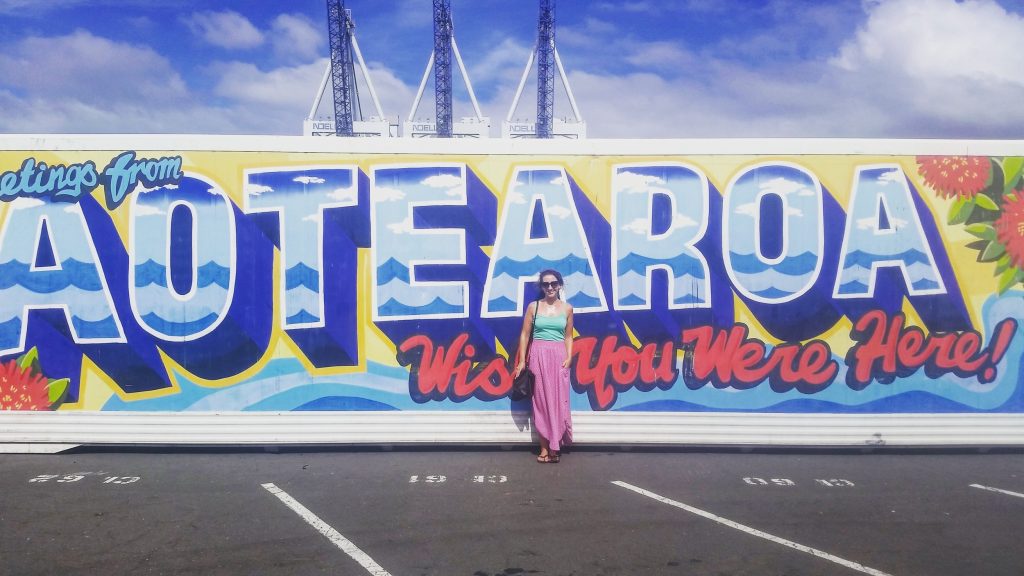 Greetings from New Zealand!
FEBRUARY
We worked with Melbourne-based street artist Tirelle Peter of the The Peatree Collective to design graphics for the EditMate App, which we launched on the Apple and Google Play stores mid-month. This was also the month we also connected with The International Travel College, our first New Zealand client that has become one of our absolute favorite brands to work with and the first subscriber to our subscription service. 
EditMate's first video for The International Travel College of New Zealand.
MARCH
After a summer of growing in New Zealand, we flew to Australia for meetings in Melbourne and to be a part of Ad:Tech Australia in Sydney. We worked with Ad:Tech to collect user generated video (via our app!) and create social videos documenting their event that featured talks from Sir Ray Avery, Jules Lund of TRIBE and Elise Strachan of My Cupcake Addiction. You can read more about our key takeaways from Ad:Tech Australia here. We were also pumped to be featured in Start Up Daily.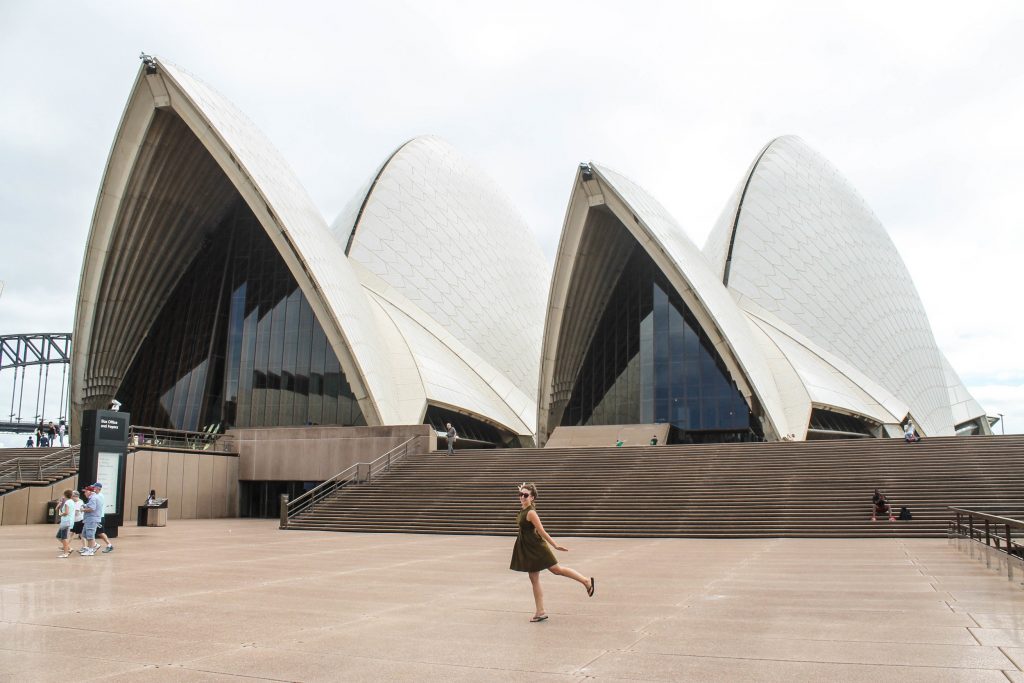 Rachel exploring the Sydney Opera House during Ad:Tech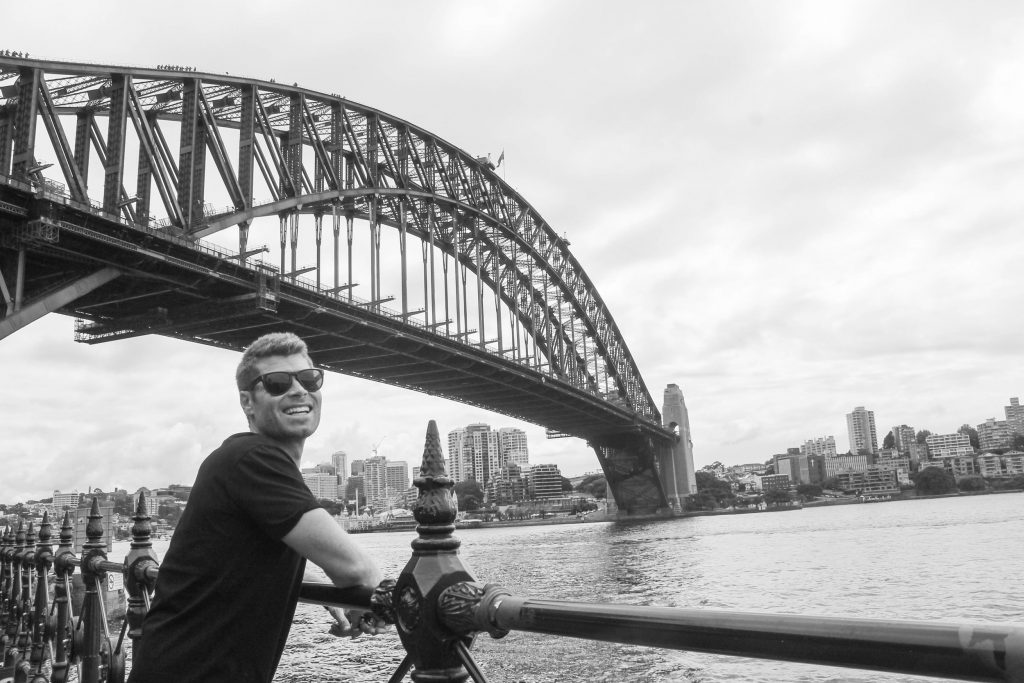 Scott at the Sydney Harbour Bridge
APRIL
Traveling north from Sydney, we settled into Newcastle, New South Wales. We worked out of cafes on the Darby Street strip and enjoyed the 5 surf breaks along the coast while working with Newcastle businesses including HUNTERhunter: a guide to Newcastle and the Hunter Valley.
An edit for a Behind the Scenes of a fashion shoot with HUNTERhunter.
A sushi and cocktail event video for HUNTERhunter.
MAY
While traveling to the USA, we were excited to be featured as "New Zealand Start Up of the Week". We also had a warm welcome into the States with a great write up in Boston Magazine. Entering back into the US,  we continued working with New Zealand and Australian clients, a new favorite being nib and their user generated videos shot by Rugby legend, Paul Harragon.
A video for nib featuring Paul Harragon
User-generated video for nib.
JUNE
We settled into Boston and into a co-working space on Atlantic Ave, to learn the in's and out's of expanding into the American market. Keeping up with the demand from our clients in the other hemisphere, our editors were busy editing from Kiwi clients like The Instillery and the Club Sandwich Project.
Testimonial video for The Instillery
A content piece for Club Sandwich Project
JULY
Listening to client feedback, we created a white label version of our app so businesses can have their own customized, branded apps to collect video footage with. Our first fully customized app was built for The International Travel College of New Zealand which they used to create countless social videos, throughout the rest of the year.
A social video for ITC, featuring Thai elephants
AUGUST
Partnering with BostInno and Vice Cream we created user-generated videos for the BostonFest event at the World Trade Center. We edited 3 social videos from footage uploaded to our app and a full recap video featuring Boston's Coolest Companies. The best video clip uploaded won a month's supply of Vice Cream and we we're psyched to deliver it to the fun folks at MassChallenge.
Event recap video for BostInno's 2016 BostonFest
User generated video at BostonFest
SEPTEMBER
Campus Agency used our app to document CollegeFest, the most heavily attended back to school event in New England. From footage they shot all over Fenway Park we edited 2 awesome recap videos. Later in the fall, they worked with us again to create a video for their ZTE College Ambassador Program.
Event video for CollegeFest at Boston's famous Fenway Park
A video showing off ZTE's brand reps
OCTOBER
EditMate got into the educational (and sexy) realm, editing a series of social videos for the FC2 Female Condom. FC2 Educators across the USA shot mobile video of themselves demonstrating how they talk to clients and patients. We edited that footage into informative, branded videos used in FC2's Online Training.
User-generated videos shot by FC2 Educators
Tutorial videos featuring FC2 Educators
NOVEMBER
Over turkey and stuffing, we were thankful for our revamped website and the opportunity to expand our services as we dove head first into the animation game with a Brand Evolution video in honor of ITC's 20th Anniversary.
Beekist brand activation video
Almond Breeze brand activation video. Both user-generated videos shot by brand reps with the EditMate App!
One year and 127 videos later, we're gearing up for 2017 by expanding our team, re-designing our app and continuing to grow our business.
Huge thanks to everyone who worked with us and encouraged us (either with virtual "likes" or real, live feedback) and told their friends and colleagues about EditMate.
Cheers to another year of learning, traveling, and video editing.
Your mates at EditMate,
Rachel + Scott
P.S. See how other brands work with EditMate on our Featured Work page.