You probably already know why video should be part of your marketing plan:
Marketers who use video grow revenue 49% faster than non-video users
Video generates 1,200x more shares than text and images combined (!!!)
After watching a video, 64% of users are more likely to buy a product online
And hopefully, you've already taken action and produced an awesome video…
But, now what?
To avoid hearing crickets and cringing at disappointing view counts, you need to plan how you will promote your new video.
Beyond pumping money into ads, there are other ways to get people watching and sharing it — for free!
HERE ARE OUR 5 FAVORITE WAYS:
1. Put your video thumbnail on your email signature and at the bottom of your email newsletters.
You're emailing folks every day, so why not give them the opportunity to watch your new video?
While you can't embed videos in email, you can use an image thumbnail or even just a text link that encourages people to click and watch.
Better yet, create a fun little .GIF and insert it into your email newsletter to really get people's attention.
HOT TIP: EditMate's video editing service can help you create a .GIF for your video.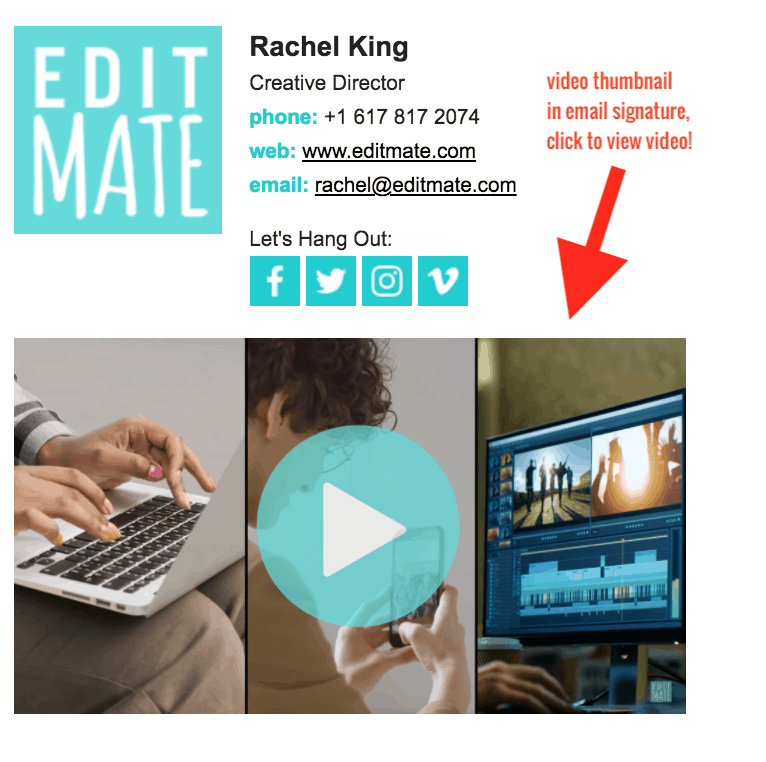 2. Pin your video to the top of your Twitter feed
Pinning a tweet keeps that content at the top of your Twitter profile and increases exposure when people are checking out your account.
Pin your video there as a simple way to attract more viewers.
We pinned our Video Editing Service explainer video so if anyone comes across EditMate on Twitter they'll learn about it immediately.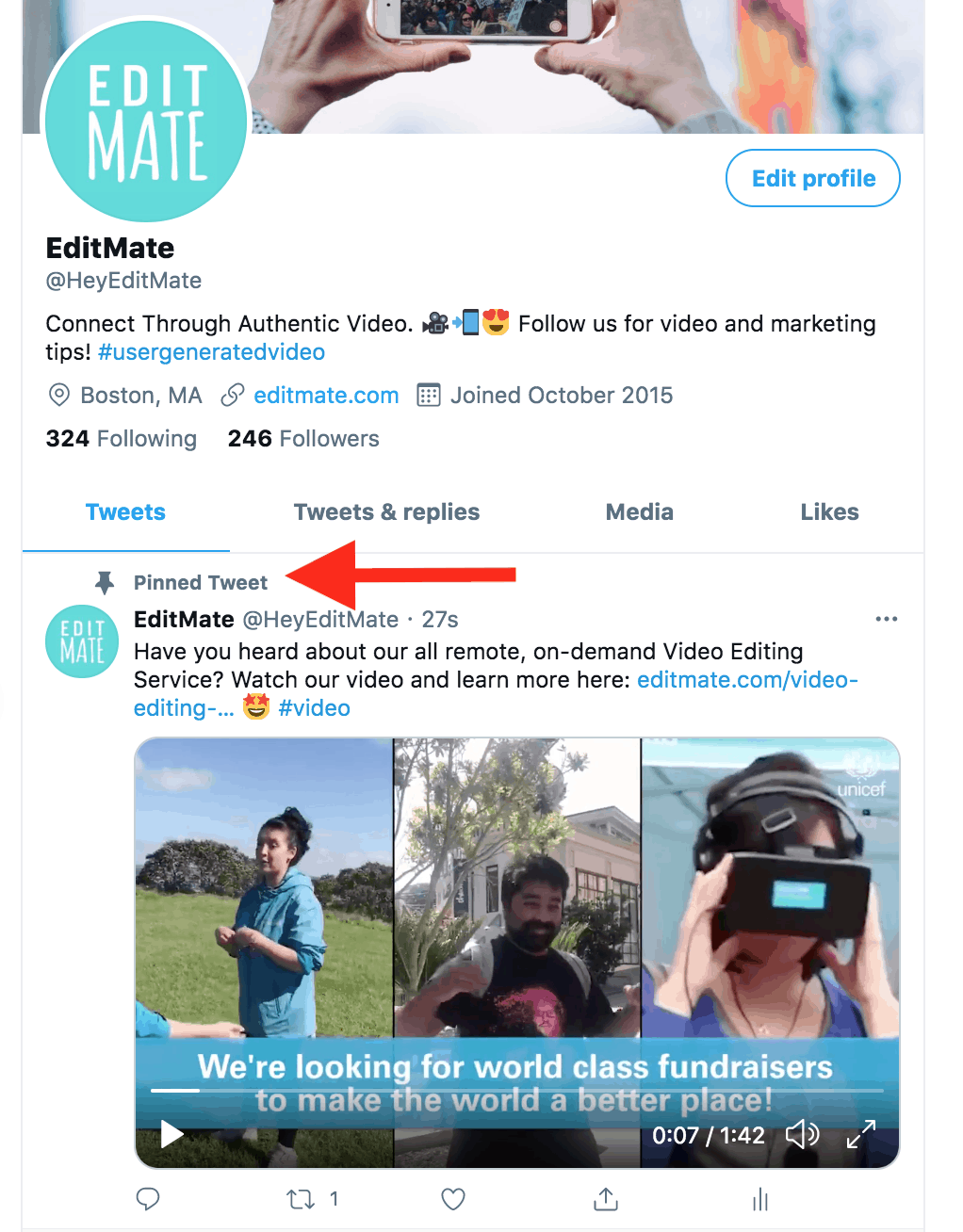 3. Cut teaser versions specifically formatted for each social channel and share them everywhere
People in your audience hang out in different spots online. One may be a regular LinkedIn checker while another loves perusing Instagram Stories.
No matter where their haunt is, you can reach 'em by sharing teaser versions of your video on all of your social channels.
HOT TIP: Here's our 2019 Guide to Social Media Video Specs so you know how to format for each channel.
4. Optimize your SEO on YouTube
Video is no longer a hot new trend, it's the norm. This means, since everyone's doing it, your video is going to have A LOT of competition on YouTube.
Therefore, you want to optimize its discoverability by nailing the SEO. Here are 3 ways to start:
a) Put your target keyword in the video title
b) Add a meta description, which is a short blurb used to summarize a piece of content. Writing one will help search engines and individuals find your video.
c) Add captions and upload a transcript. This will give search engines plenty of text to crawl to find out what your video is all about.
HOT TIP: EditMate's video editing service can help you with captions and transcripts, too.
5. Share it directly with relevant communities
Are you part of a marketing group on LinkedIn? A mastermind group on Facebook? Contributing to a subreddit that's related to your industry?
Share your video there!
Make sure you're actively engaged in these communities first (you want to make sure you have a full understanding of the topics discussed and be commenting on other people's posts, too) and then share your video and ask for feedback!
You'll be surprised how many people will re-share it, get interested in your business and help you spread the word.
Sometimes when we share things on social media, it feels like we're using a loudspeaker and interrupting everybody.
But with organic reach dwindling, it's actually more like a soft whisper only a few people at a time are hearing. (Only 10% of your followers see your Facebook posts!)
That's why it's important to get creative with how you promote your content and remember to share your videos over and over again, in new and different ways. 
Follow our 5 tips to get started promoting your videos and you'll be well on your way to reaching new audiences, strengthening existing customer relationships and maximizing your creative content — for free! 🙂