For the last 3 months, we've been working hard to add new features that keep EditMate's tools looking and working great…
So, today we want to share some of these new updates!
Whether you're a brand new EditMate Producer, have been creating videos with us since the early days, or even if you haven't hopped on the EditMate train quite yet — keep reading to check out the latest and greatest software updates:
1. Custom Uploader Designer
While our team still designs and builds completely customized Uploaders for our customers we've now created a DIY tool that our Premium and Enterprise plan users can use to easily create their own, too.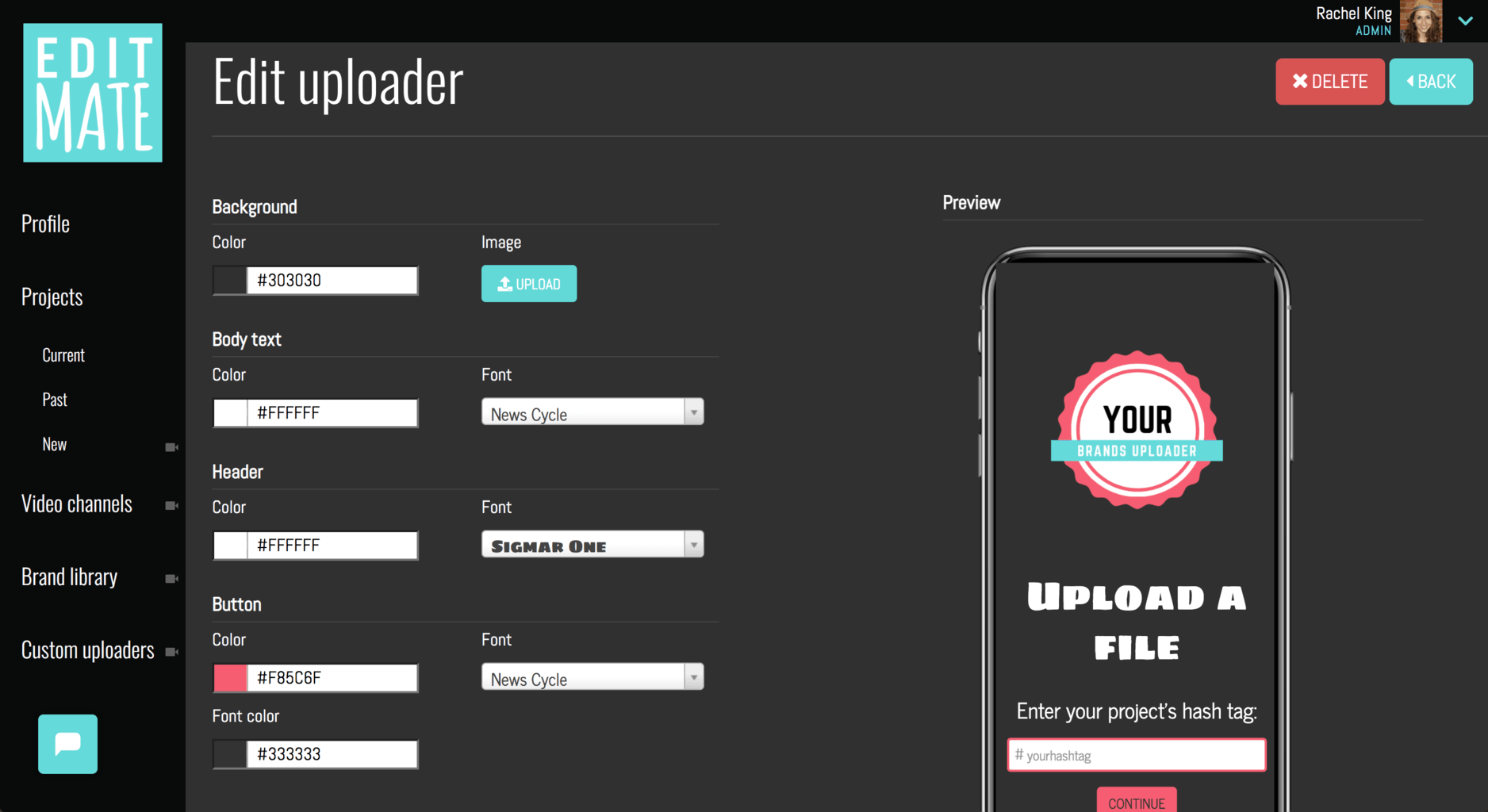 With the Custom Uploader Designer, you can:
Design and publish an Uploader anyone in your community can use to contribute videos and photos to your projects
Choose a background, logo, fonts and colors to match your brand or campaign
Select the data you want to collect from your uploaders (Name, Location, Video Description) or choose "Other" to write in your own options
Have a unique, personalized URL (i.e. yourbrand.editmateuploader.com) for each Uploader
Choose to link an Uploader to a specific project, eliminating the need for your contributors to input a #hashtag when they use it
Use EditMate's standard terms & conditions to get immediate permission to use any uploaded photos or videos, or link to your own terms & conditions
2. Pop Up Video Tutorials on the Dashboard
While our #1 goal is to keep our Dashboard as straightforward and streamlined as possible, we know that even the simplest software can sometimes require a bit of guidance.
That's why we've added pop-up Video Tutorials for different features around the Dashboard.
Just click the little video camera icon (noted by the red arrows below)  and a short video will pop up to show you how to use that feature.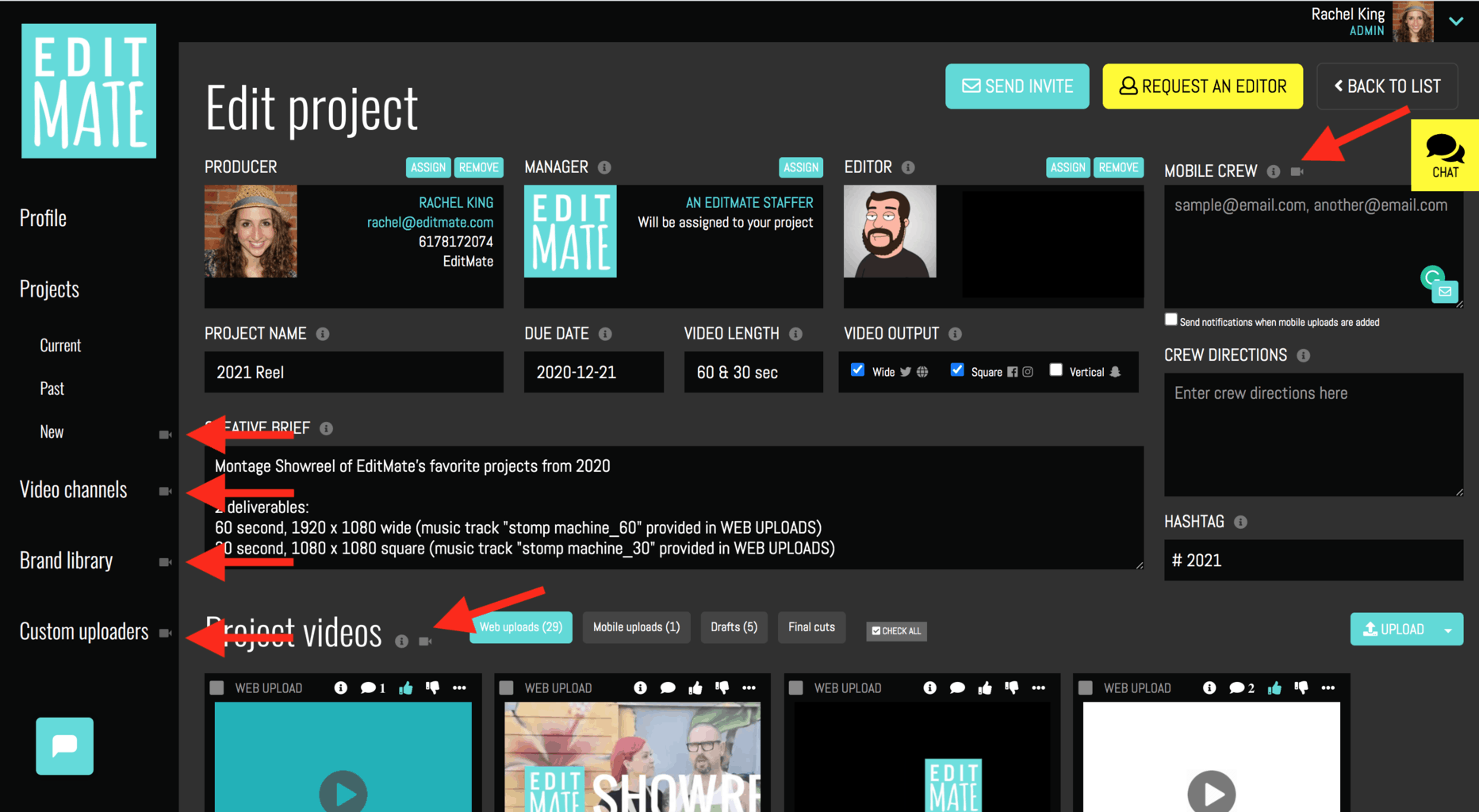 3. Disable Downloading on Video Channels
Our Video Channels can be public or private (password protected) but we wanted to add another layer of protection, so now with either kind of Channel you have the option to enable or disable the ability to download the videos featured.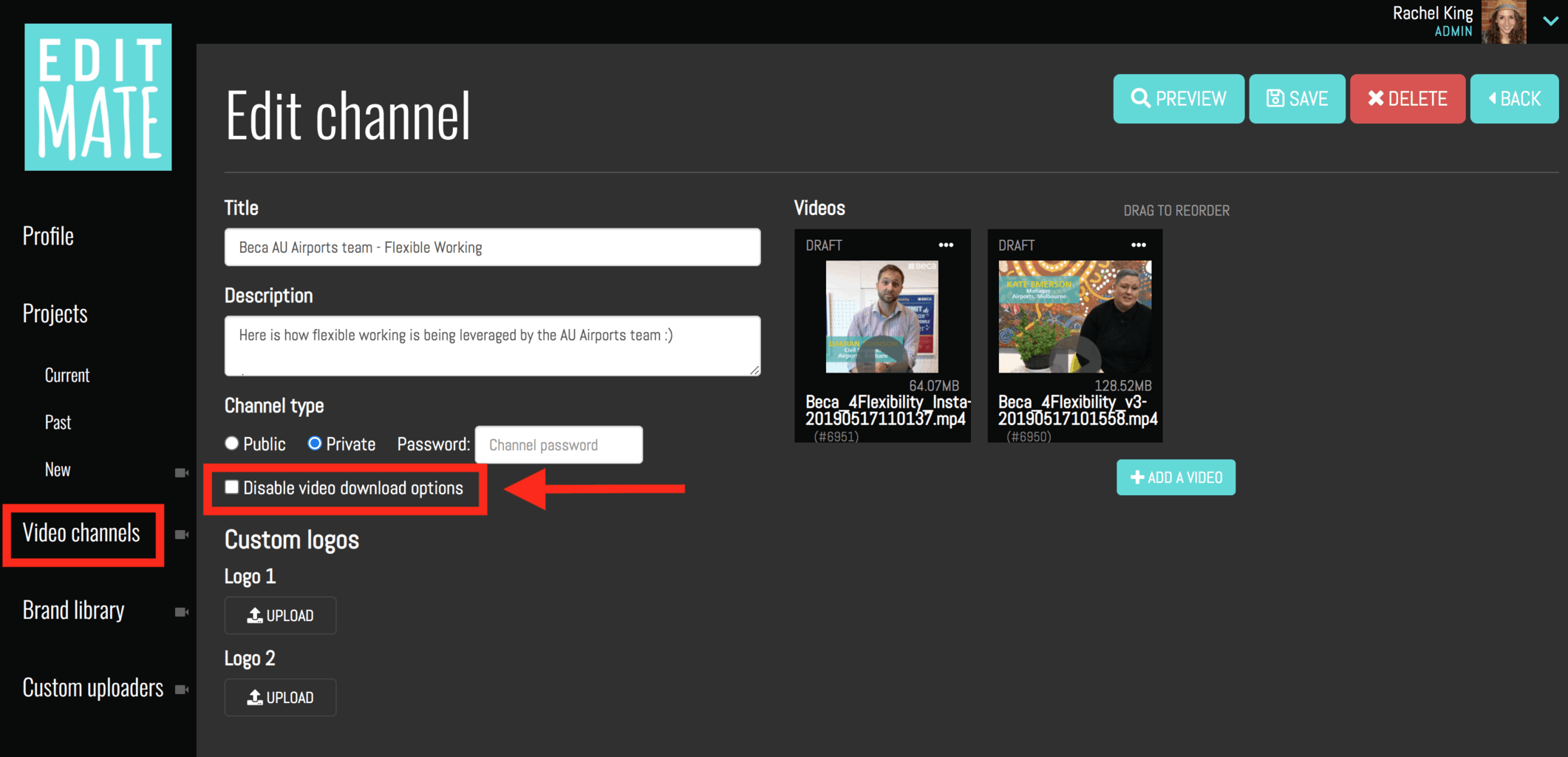 So, sharing a Channel with your thousands of fans on Facebook? Disable downloading.
Sharing a Channel with your colleague so they can have access to the video files? Enable downloading.
Easy!
Other somewhat less sexy (but still important!) updates to our software include:
Responsive hashtags and backgrounds on Custom Uploaders
Option to have a logo or not have a logo on your Custom Uploader
Search box added to Video Channels
Live Chat on the Dashboard for on-demand tech support (this is in addition to the Chat Box on each project, that you, your Editor and your Project Manager use to communicate)
Faster auto-save function when editing projects
On projects, files are now displayed in the order they were uploaded with the most recent files at the top
and many more!
Want to check out all of our new updates? Contact us today to learn more.