In a digital-first world, the skills that are considered to be essential have evolved…
According to a McKinsey survey, 87% of executives say they are experiencing skills gaps in their employees now or expect them within the next five years.
Now more than ever, it's important to acquire new skills that maximize your performance as an employee and contribute to the success of your organization.
You're probably already aware of the benefits of upskilling: learning new concepts, boosting your confidence, enhancing your value as an employee, and improving your company's competitive edge…
But, how do you upskill employees when they're all working from home?
Since remote work isn't going anywhere, user-generated videos have become essential for delivering educational content to people, no matter where they are in the world.
The advantages of videos driven by real employees are authenticity, accessibility, and greater interactivity.
Today, we'll share 3 ways to upskill your business's community using user-generated video. 
You can leverage this content both internally and externally to help bridge skill gaps among your team AND position your business as a leader in your space!
An Open House Video spotlighting an employee that Beca produced using EditMate. 
Produce a video open house to share what an individual, team, or department is working on.
This type of video can help everyone understand what their colleagues do and how they contribute to the company's overall success, while also learning new skills and ways of thinking.
Video Open House Ideas:
Showcase new concepts for campaigns your marketing team are brainstorming
Spotlight an employee by having them share their career trajectory and their current role at your organization
Share best practices teams are using to allow your employees to collaborate effectively while working from home
Have each department present their top 3 goals for the Quarter and breakdown how they plan to accomplish them
To leverage this as external-facing content, re-purpose the videos and share the non-confidential clips with other business professionals in your community and partners of your organization on LinkedIn or YouTube.
By doing so, you'll assert your brand as an innovator in your industry.
HOT TIP: By sharing a sneak peek of what it's like to work at your company, this type of video can also serve as valuable content to attract and recruit new hires.
Guest speakers can add fresh perspectives and authoritative insight.
User-generated videos alleviate the need for expensive, high-maintenance productions—your speaker can just film themselves with their smartphone.
Producing a video this way also ensures that the guest speaker will speak casually and candidly, often sharing personal insights they might not have otherwise.
Ideas for Guest Speakers:
A current client that can share more information about their organization and how they utilize your service or product
An industry leader that can talk about their career and provide inspiration to your employees
New start-up founder whose business complements yours and can discuss fresh ideas and modern ways of thinking about your industry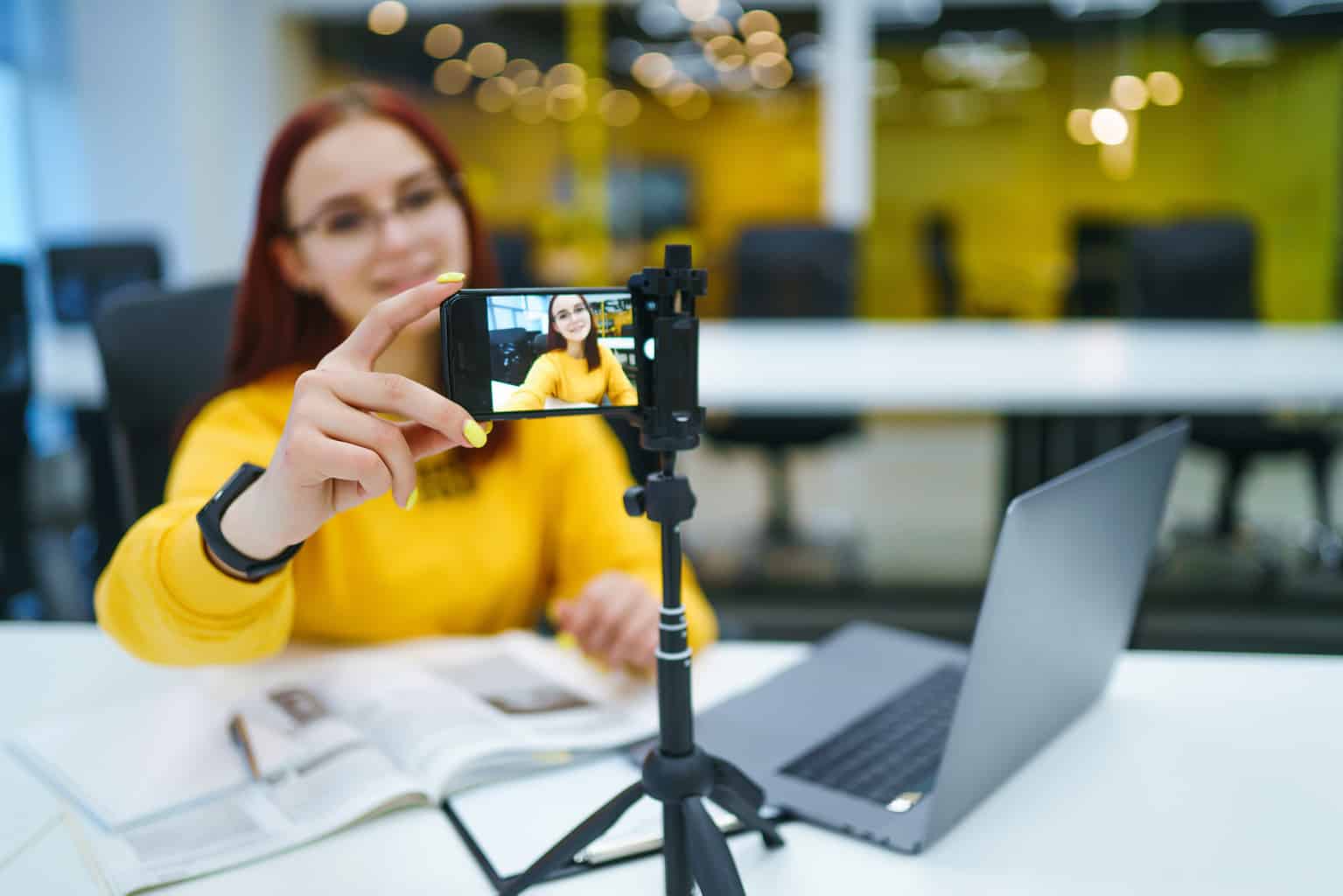 According to LinkedIn's 2020 Workplace Learning Report, 94% of employees would stay in a company if it invested in their learning and development.
Video Workshops are an interactive way for employees to collaborate and learn from each other.
Internally, you can use them to teach a new concept or innovate on old ones.
For example, to breathe new life into your sales department's cold emailing/calling skills… produce a video workshop where you have several members of your sales team share their best practices and favorite tips.
Be sure to share the videos externally, too. You can re-purpose and leverage these user-generated videos to help other professionals learn new skills and introduce them to your business.
For casual and team-building types of content, have employees teach one another something fun that they're good at through video: a challenging yoga position, how to make the perfect omelet, how to change a tire, or how to draw a decent portrait.
You'll be surprised to learn the hidden skills and talents of your colleagues and they'll enjoy learning both from and about each other.
HOT TIP: We recommend these workshop videos be delivered in a microlearning style, bite-size and under 5 minutes. This will ensure that these videos are easy to digest. Plan to produce and share 1 per week and your community will enjoy receiving them in their inbox each week!
HOW TO GET STARTED UPSKILLING THROUGH USER-GENERATED VIDEO:
After starting a project on the EditMate Dashboard, you can use a custom-branded Uploader to collect short videos from anyone on your team.
Then review and choose your favorite videos, then Request a Video Editor to cut the footage into an on-brand, polished, ready-to-share video series.
Then, make them easily accessible to your team by creating and sharing a Video Channel. Or, simply download them and share them on your company's intranet, website, or social media channels.
User-generated video provides a simple way to produce authentic educational content that can upskill your community.
It's informal feel will allow for employees to connect and learn from each other in a candid and relatable way.
It's also way more cost-effective and efficient than hiring a traditional production company, allowing you to create a high volume of videos with your community, wherever they are in the world.
Whether working remotely is temporary or permanent for you, now is the perfect time to use user-generated videos to help your employees and customers expand their skills and abilities.
Want to learn more about upskilling your community through user-generated video? Contact us today.