If there's one thing we've learned from starting a business, building software, producing thousands of videos, or really, accomplishing just about anything… is that it's helpful to break down big projects into small, digestible tasks.
And after that, we looove to create a checklist with all those tasks because it's weirdly satisfying to cross off each one.
So today, we're going to share with you a step-by-step checklist on how to produce a video using EditMate.
Our software and service make it easy to produce a video and this list will show you exactly how to do it!
▢ Decide on a video topic
Think about your larger marketing or comms strategy and brainstorm what kind of video will be most useful right now…
The possibilities can be endless, so narrow it down by thinking about your overall goal and figure out what kind of video can help accomplish it:
Authentic case study to provide social proof?
A detailed tutorial to educate your team?
A music-driven montage that shows off your customers or brand ambassadors on social media?
A fun internal video that showcases your employees to boost morale?
HOT TIP: If you're looking for topic inspiration, check out our Social Media Holiday Calendar to spark some ideas.
▢ Sign in to the EditMate Dashboard and start a New Project
Start by choosing a project name and then fill out the Creative Brief section, detailing your vision for the video.
Let us know:
the due date it needs to be finalized by
the video length
and what format you'd like it to be in: rectangular, square, or vertical (or all 3!) depending on where you plan on sharing it.
If you have other videos you'd like to provide as references for your vision, feel free to cut and paste links into the CREATIVE BRIEF section and drop any other assets (like logos, images, etc) into the WEB UPLOADS bin so your Editor (more on them later!) will have access to everything.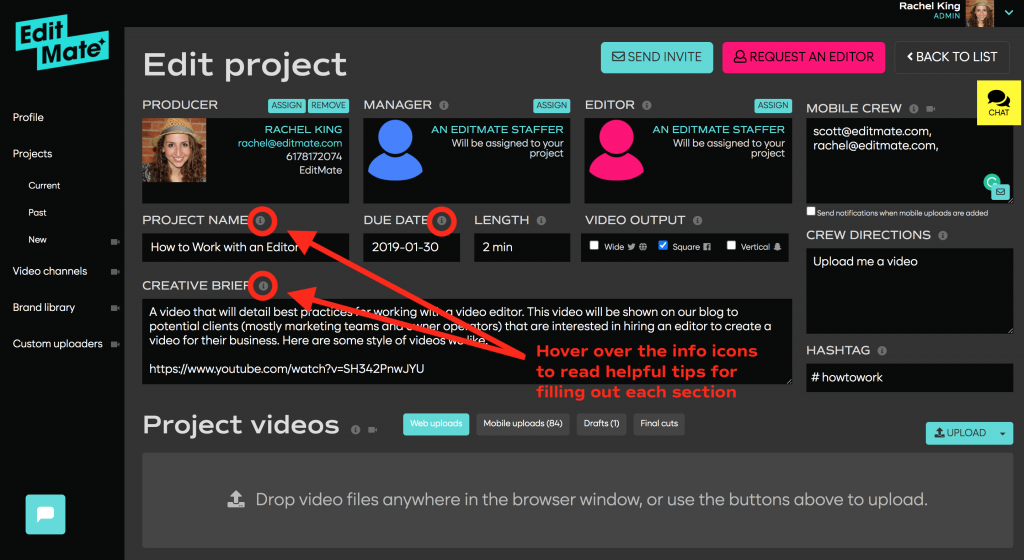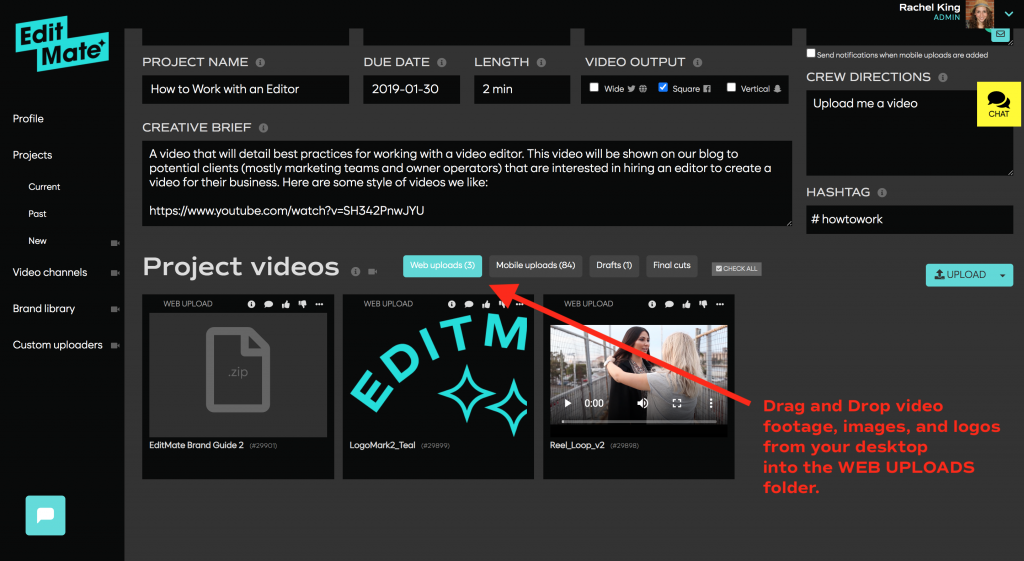 ▢  Provide Video Footage
When it comes to video footage, there are actually 2 ways to do this when using EditMate:
1. Upload your own footage that you had professionally shot, that you shot yourself or you had laying around and want to re-purpose.
Simply drag and drop it into the WEB UPLOADS bin on your project, or in your CREATIVE BRIEF include links to other locations the footage is already stored (like on DropBox or WeTransfer).
OR
2. Crowdsource user-generated video footage
If you're looking to get your brand's community involved, you can use EditMate's Uploader to collect video clips from anyone, anywhere in the world.
The EditMate Uploader is free, public and anyone can use it.
It's a cool way to get authentic video footage and collaborate with your customers, employees, brand ambassadors, and fans.
To get started, you'll want to add a unique #HASHTAG to your project. This #hashtag is what people will input when uploading videos to your project.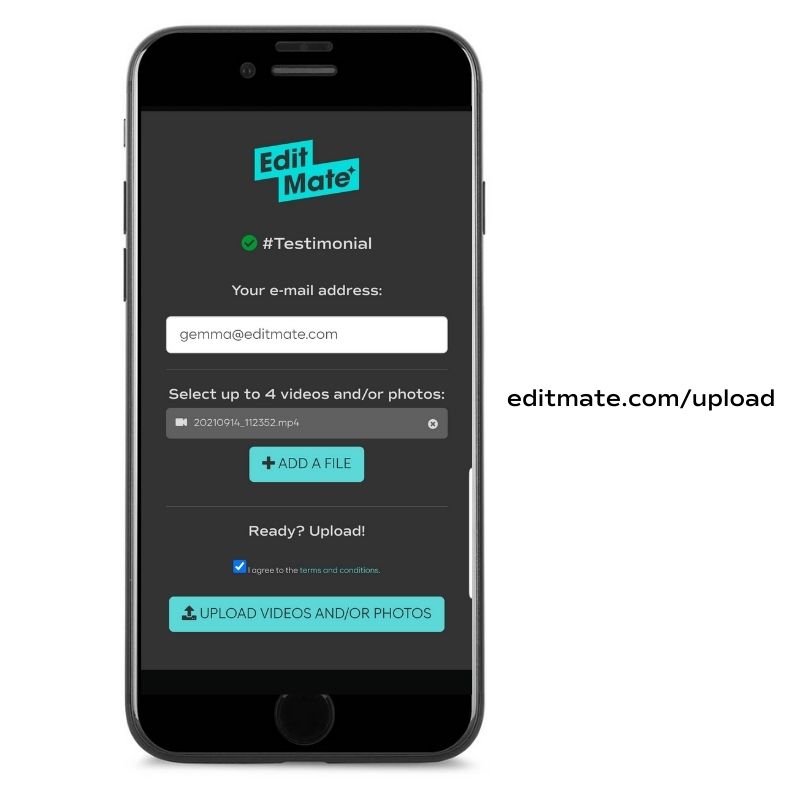 Here's how you can invite people to upload:
Add the email addresses of the people you would like to contribute footage to the MOBILE CREW box on your project.
Write details on what you would like them to film in the CREW DIRECTIONS box.
Then, click the little BLUE ENVELOPE ICON to send out emails inviting those people to contribute videos with the Uploader.
And don't forget to ask people to contribute videos to your project by putting out a call on social media, sending a personal message, or just asking them in person! Just share with them a link to the Uploader and your project's #hashtag.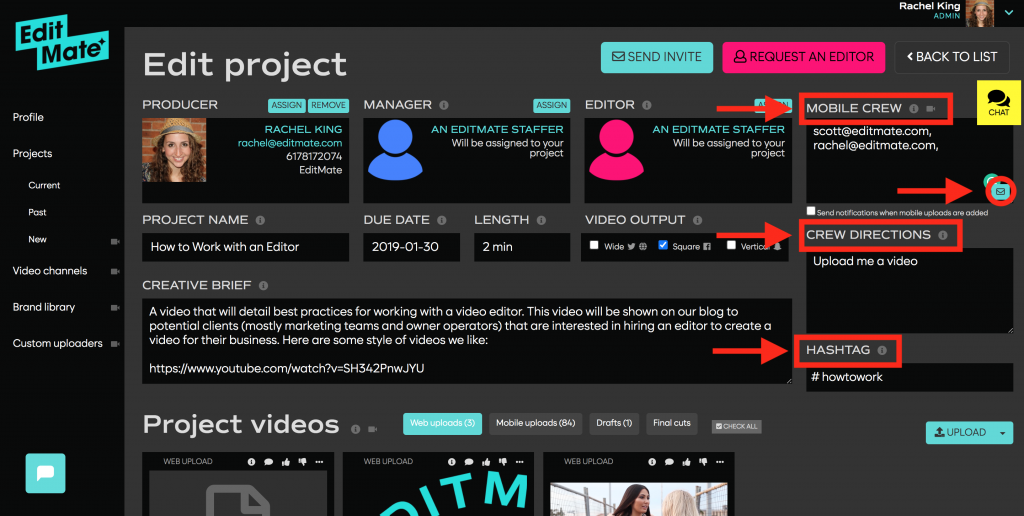 Or you can create your own Custom Branded Uploader on the Dashboard and link that to your project. See a few of our clients Uploaders, below: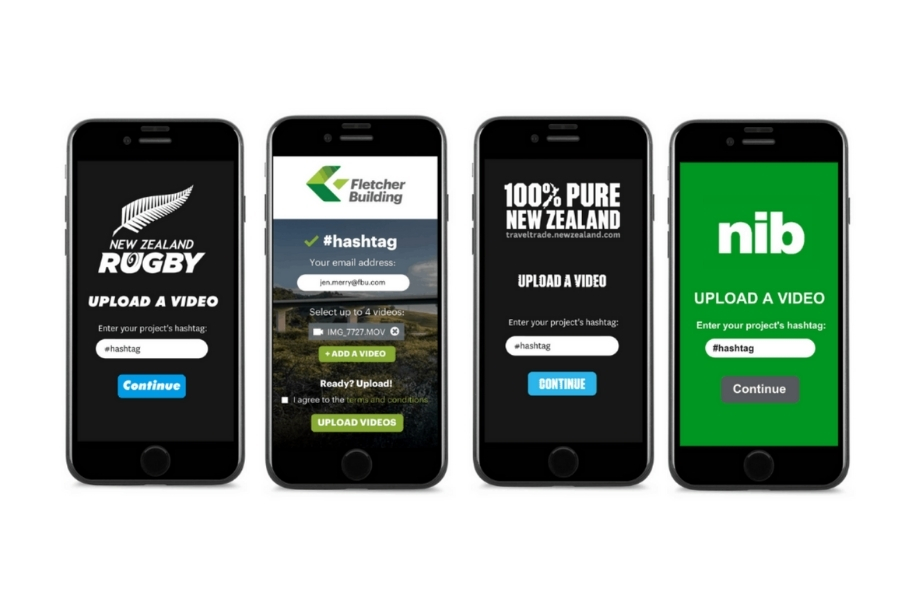 If you do that, your community will have a 100% on-brand experience when contributing videos to your projects.
▢ Review Footage
Once footage has been uploaded, you can review, rate, and comment on it by clicking on the icons on each video's thumbnail.
Any feedback you have on the footage can be helpful to the Editor who will edit your video.
▢ Request an Editor
Once you've filled out the Creative Brief, uploaded video clips, and reviewed the footage… it's time to bring in a professional to edit you an awesome video!
Simply click the yellow REQUEST AN EDITOR button on your project page and within 24 hours, someone from the EditMate team will follow up with you.
We'll provide a quote for the editing of your project, or confirm that this project is part of a Video Editing Pack you've purchased from us previously.
HOT TIP: Learn more about our Pricing and packages here.
Once the quote is approved, our Editor will reach out via the Chat Box with any follow-up questions about your project and then get to work!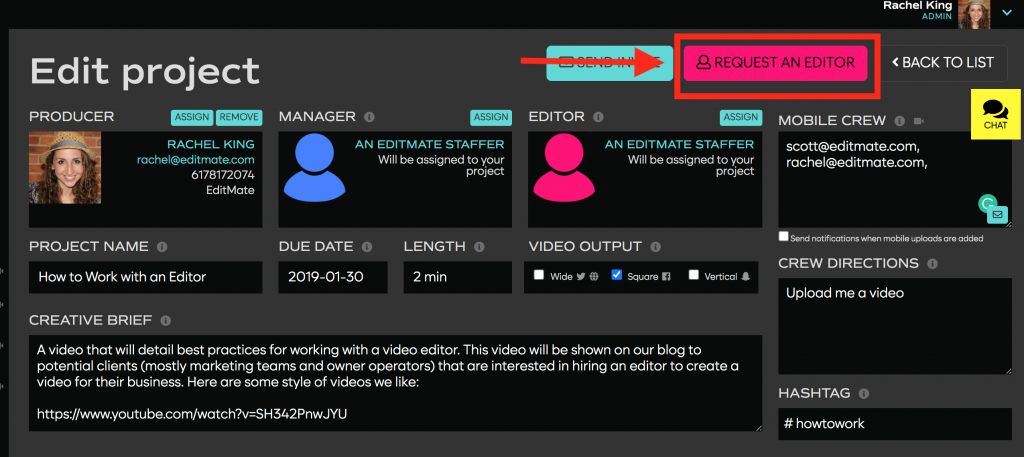 ▢ Review the Draft and Send Feedback to your Editor
Your Editor will download all of your footage and edit the video on their own, professional video editing system.
They'll add music, graphics, voiceovers, and more to create a polished video.
Once a first Draft is complete, they'll upload it to the DRAFTS folder and send you a message via the Chat Box letting you know.
You'll receive email notifications whenever a new draft or message is available for you to review.
You can also share the draft with your team by sending them a link and a note to view the video, too.
Once you have feedback or revisions, you can send them directly to your Editor via the Chat Box on your project.
▢ Finalize the Video
We provide up to 3 rounds of drafts/revisions for each project and all communication between you, your Editor and your Project Manager will happen via the Chat Box.
Once the video is approved and finalized, your Editor will upload it to the FINAL CUTS folder.
▢ Share Your Video With The World!
Now that you have an awesome video, you can download it directly to share it anywhere you'd like.
You can also send out a link to the video hosted on the Dashboard, or you can create an EditMate VIDEO CHANNEL that can be public or private (password protected) and group it with other videos to share.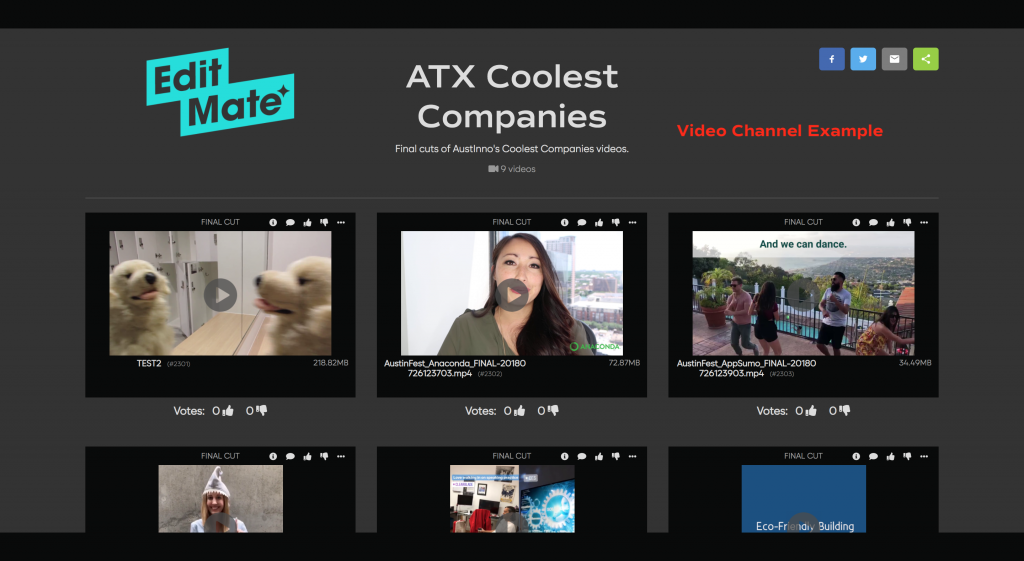 … and that's it!
Follow this 8 point checklist to produce a video with EditMate and pretty soon you'll have a whole library of video content for your marketing, internal communications, social media channels, and more!