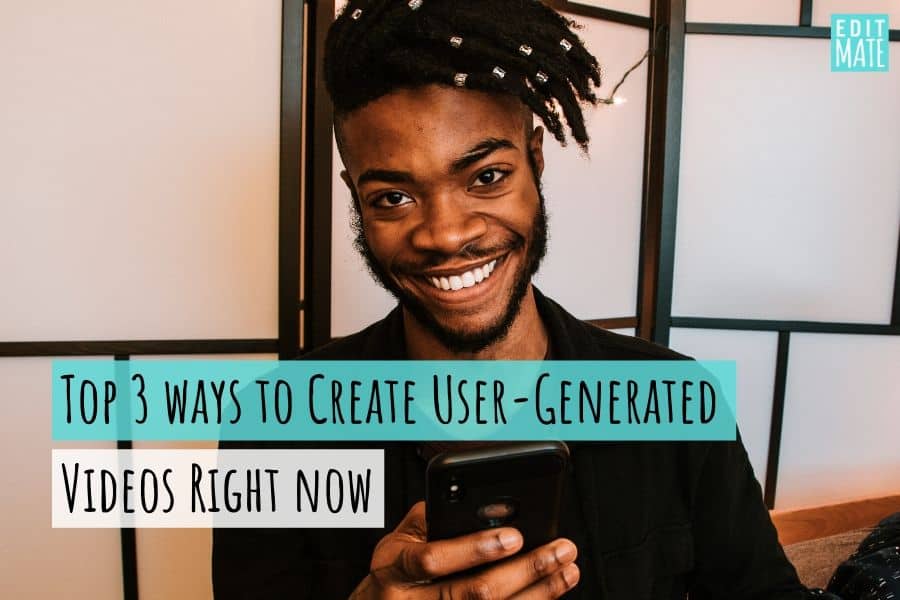 Top 3 ways to create user-generated content right now
We've been preaching about user-generated video since 2015…
Back then, it was a fairly new term to most folks and it required a lot of explanation.
Now, with the popularity of Instagram Stories, TikTok, and LinkedIn videos everyone is familiar with user-generated video.
You've probably already watched one today.
Additionally, Octoly found that user-generated videos carry 10X (!!!) the views of professional, "official" videos that a company makes about its brand.
This is irrespective of production value or messaging strategies – the authenticity of the user trumps any paid-for polish.
In short: user-generated video is more useful than ever before.
So today, we're gonna share the top three ways businesses can be creating user-generated video marketing content right now.
Plus, we'll tell you exactly to get started and provide helpful tips!
70% of consumers check out reviews before making a final purchase decision.
As part of your daily marketing routine, you should be soliciting reviews to share on your website and social media.
And using user-generated video for reviews is one of the most effective things you can do right now. With social distancing in place, it's the closest thing we have to genuine face-to-face, word-of-mouth marketing.
HOW TO DO IT NOW: Ask your customers (via email or social media) to create a video either reviewing your product or simply showing them enjoying it. You can use the EditMate Uploader to streamline the process.
When all the footage comes rolling in, your marketing team will be equipped with heaps of video content to share and re-purpose across your channels.
HOT TIP: Soliciting reviews can be a bit of a fine line… it's taboo to solicit directly, but all savvy companies have some sort of indirect way to do it.
A contest, reward, or ambassador program is a great way to attract interest and gamify the process.
See how Forto used their brand ambassador community to create a video of college students around the country enjoying their product:
Viral hashtags are social phenomena with their own life force, one that can encourage your customers to open themselves up and share content more naturally than even the best ad with the biggest celebrity you can pay for.
If you create the right hashtag and gain traction, people will jump to use it and be happy to be included in your marketing stream.
HOW TO DO IT NOW: If you have a loyal base, invite them to include the hashtag when sharing videos and photos on social media. Again, a contest or free giveaway is a great way to encourage participation when you're first getting started.
Once the tag gets more traction with your target audience, the pictures, videos, and discussions of your offerings will naturally bring more people into your community and over time, convert them.
HOT TIP: Ask your growing community to also share their videos/photos (with the same #hashtag) to the EditMate Uploader. By doing this, you can continuously collect and store this user-generated content on the EditMate Dashboard.
You can later shape it into marketing material (by adding logos and calls to action) and re-purpose it to create authentic video ads that will expand your customer base even further.
Enticing your customers to engage with you socially means being a part of their lives. Acknowledging holidays and making your brand a part of the celebration is an opportunity you shouldn't miss.
There are lots of holidays (Here's a full list of the more obscure ones like "National Pet Day" or "Best Friend Day") so it's important to choose ones to celebrate that are truly relevant to your brand and audience
HOW TO DO IT NOW: Celebrate a holiday by using it as an opportunity to show off your community (whether it's your employees, customers, or fans) and provide useful, relevant information they'll appreciate.
HOT TIP: Check out this example of how nib Health Insurance did it for Pride Month during the month of June:
In conclusion, user-generated content is the cost-efficient way to market if you don't have a huge budget.
And as you can see, it can be leveraged in heaps of ways.
We bet you can get creative and come up with even more ideas that are perfectly suited for your business.
Want to learn how other businesses are using EditMate to produce user-generated video content? Contact us to set up a free demo.