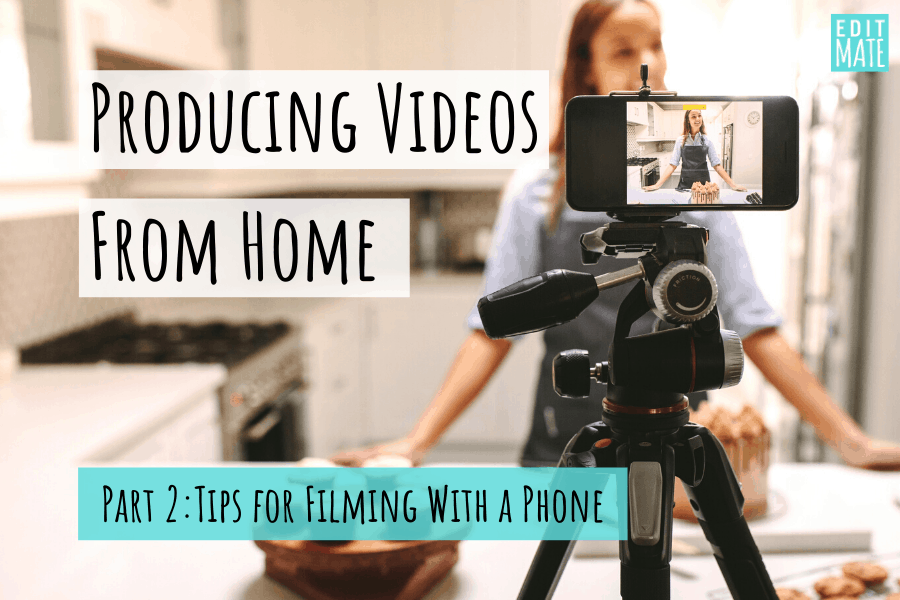 Producing Videos From Home
Part 3: Tips for Filming With a Phone
Last week, we shared 6 types of videos brands can create while working from home.
And we hope that list sparked heaps of ideas for videos for your business…
So today, we're going to show you how to get started with actually filming those videos — while working from home.
And with the one tool we all have: a phone!
Fortunately, phone technology has improved so much that it's easier than ever to shoot professional-looking, high quality videos on your phone.
Follow these 7 simple tips to record the absolute best video possible:
1. Film in a bright, well lit room.
Now is not the time for mood lighting…
Open up the shades and let the light pour in. If you can, drag in lamps and add additional lights to a room to make sure your subject is lit up nicely.
If you're filming yourself, don't let the light hit your back (so don't sit in front of a window!) and make sure your largest light source is either right in front of you or no more than 45 degrees away from you.
Avoid only using overhead lights too, because they can cast unattractive shadows on people's faces.
>> ? HOT TIP: If you're looking to make a small investment, order a RING LIGHT (this one is around $100 but you can buy one on Amazon at various prices) and place your phone inside it when filming. A ring light casts a very flattering light and will make you or your subject glow. That's why all the makeup artists and influencers on YouTube use one!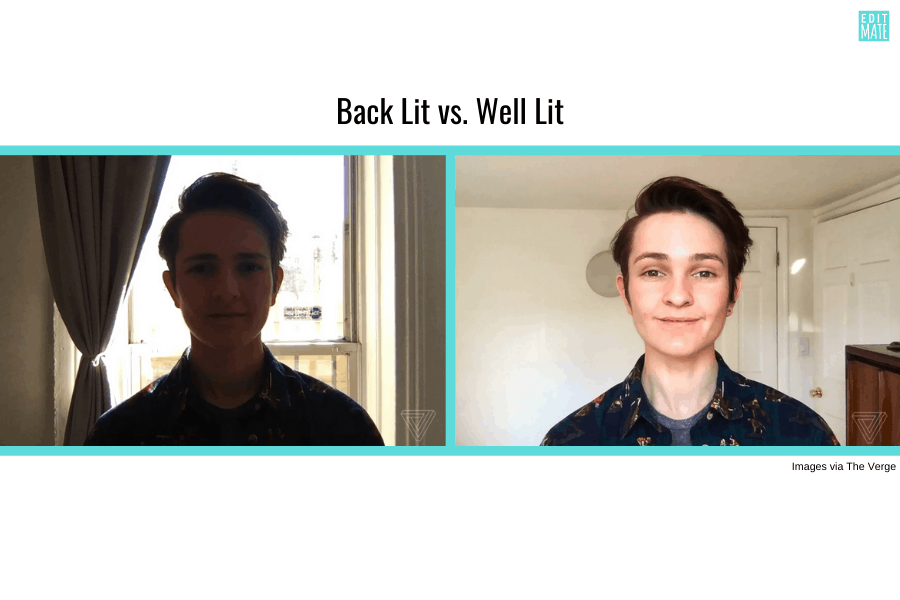 2. Pay extra attention to your audio
To record great audio, record in a small, quiet room.
Why? Because the smaller the room, the less of an echo there will be.
And be extra vigilant about outside noises: your kids chatting in the kitchen, loud trucks whizzing by on the street, or the buzzing of a noisy appliance.
Before you press record, take 30 seconds to quietly sit and listen to what's surrounding you and then see what you can do to minimize any noises you can't avoid: close windows, shut outside doors, unplug appliances, bribe children…
>> ?HOT TIP: To ensure you capture excellent audio, consider purchasing a Shotgun Mic for your phone. It plugs right into your headphone jack. We like the Rode VideoMic Me which also comes with a "fluffy windshield" piece which is great if you're filming outside and need to eliminate wind noise.
3. Film with your phone horizontal
While vertical videos and square videos are all over social media, we recommend filming in the standard wide format (rectangular, at least 1920x1080) to keep the video quality as high as possible and ensure it's easy to edit.
Your wide video can be later edited into a vertical or square which is important if your clip will be used with other video clips.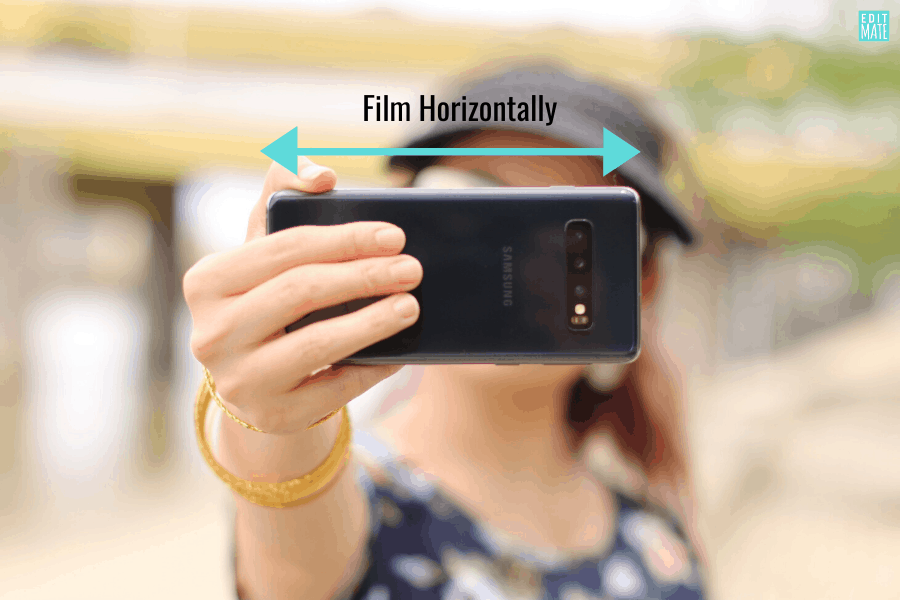 4. Choose a Good-Looking Background
If you're filming a "talking head" video of yourself, make sure your background is appropriate and not distracting.
After setting up your shot, spend just 5 minutes decluttering and adjusting any items within the background of your frame so they are pleasant to look at.
5. Angle your phone so it's slightly above your eye line
Doing this makes for a universally flattering angle: it emphasizes your eyes and avoids a double chin.
> ?HOT TIP: To position your phone, you can buy an inexpensive phone Tripod or just get creative with a chair and a stack of books 😉
6. Wipe the Lens
Before you press record wipe both the front and back lens, so your selfie-style and regular videos will look crisp and clear.
While it may not be that noticeable, your phone is constantly collecting bits of dust and scum and simply wiping off that residue will make a huge difference and ensure you'll capture sharp, crystal clear video.
And you don't even need any fancy phone cleaner. Just use your sleeve. You should really be doing this all time, it'll make your photos even better, too.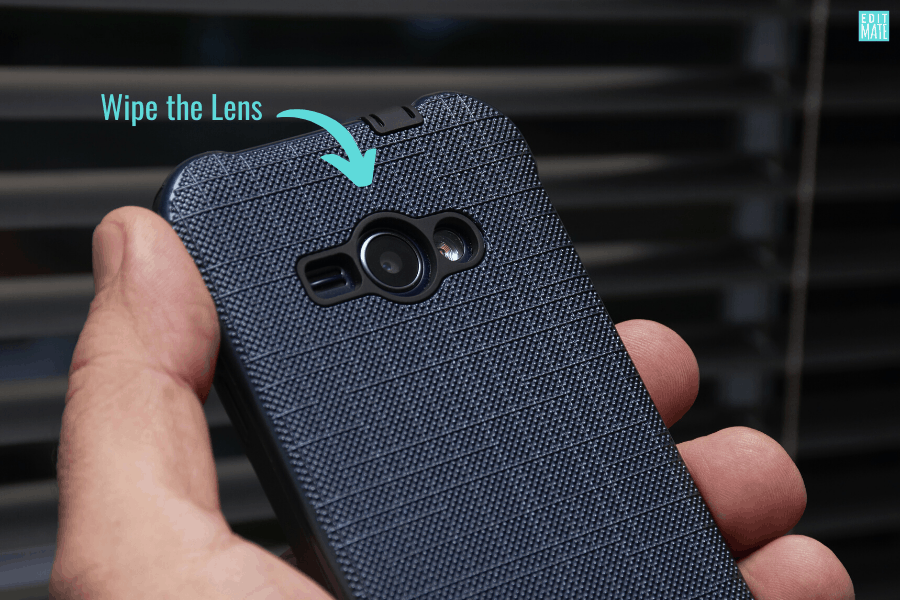 7. Bring The Energy
Filming yourself on camera, especially alone in a room, can feel a bit awkward. But that's okay! Use this time to try out a few things, play it back, see what works best and then re-record.
And try to be the biggest, brightest version of yourself. While it may feel a bit unnatural at first, that is what translates well on video and will bring good energy to the video.
So chug a coffee and pretend like you're talking to your best friend that you haven't seen since social distancing started. ?
So, once you've filmed everything… now what?
That's where EditMate comes in.
All you need to do is start a new project, write a short creative brief about what your video is for and upload your footage.
Watch this video to see how easy it is:
To learn more about how to use EditMate to create videos from home, get a demo today. Click the yellow button below!
And stay tuned for Part 3 in our series about Producing Videos From Home: Where to Share Your Videos (with ideas for both B2C and B2B brands)!