USER-GENERATED VIDEO SOLUTION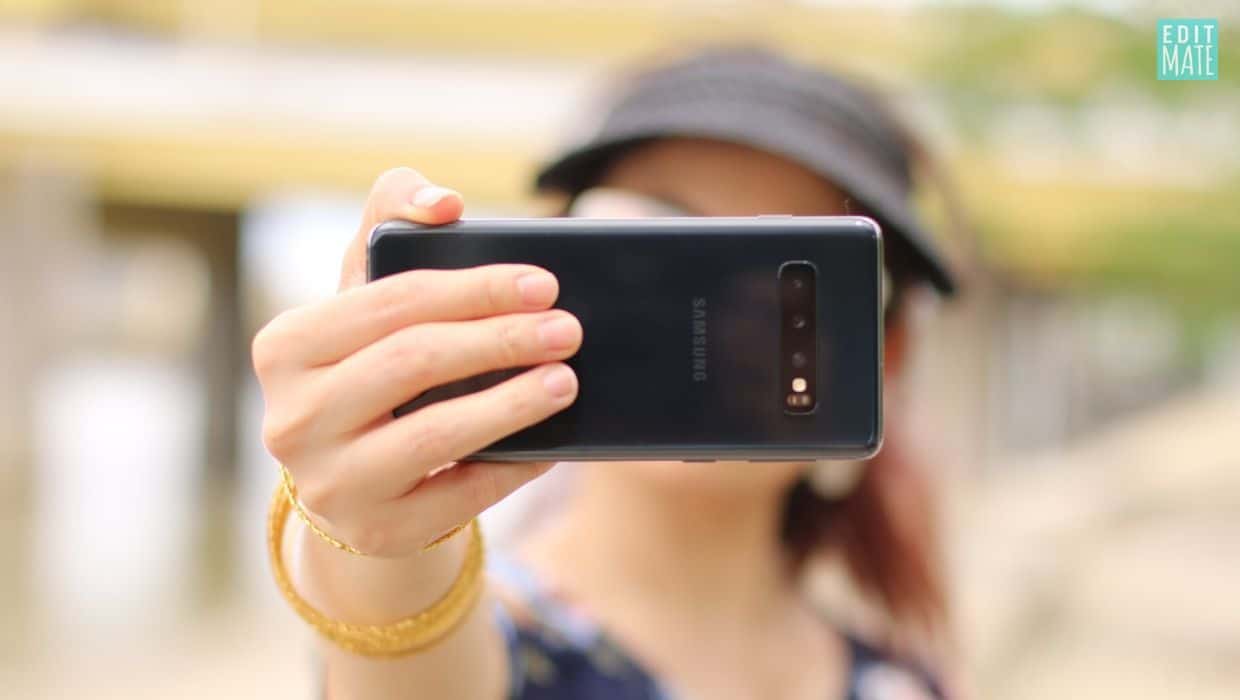 Crowdsourcing user-generated video is a cost-effective way for businesses to create authentic video marketing content with their real community.
Our Uploader is the quickest and easiest way to collect footage from anyone, anywhere in the world. 
Everyone is now equipped with a high-quality video camera (their phone!) and EditMate makes it easy for brands to collect and manage that footage.
Using our Uploader, businesses can crowdsource user-generated videos and photos from their customers, employees, brand ambassadors, and fans all over the world. 
The standard EditMate Uploader is available with our Pro plan as both a web application and a mobile app (available as a free download on both iOS and Android).
On our Premium and Enterprise plans, users can design an Uploader that perfectly matches their brand…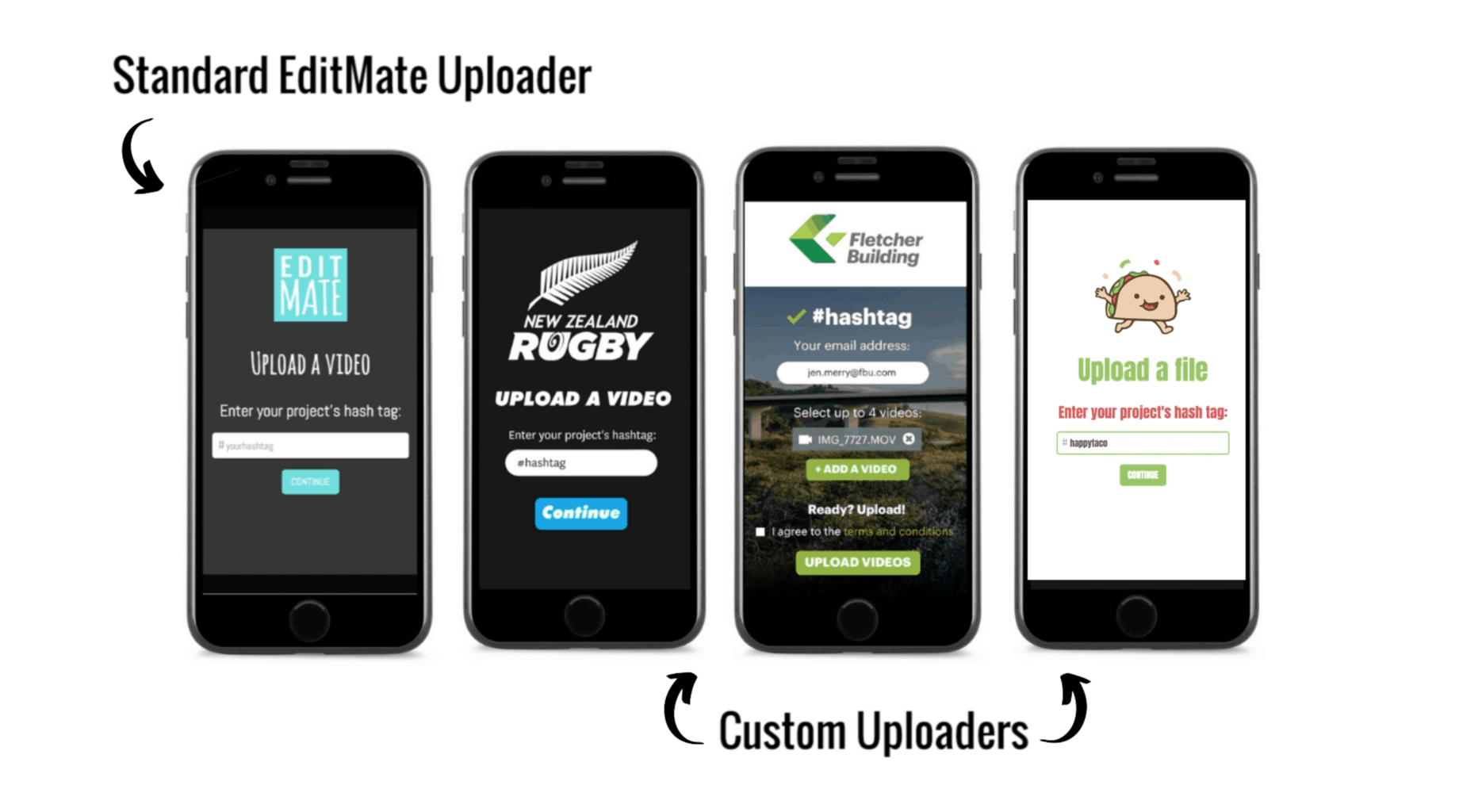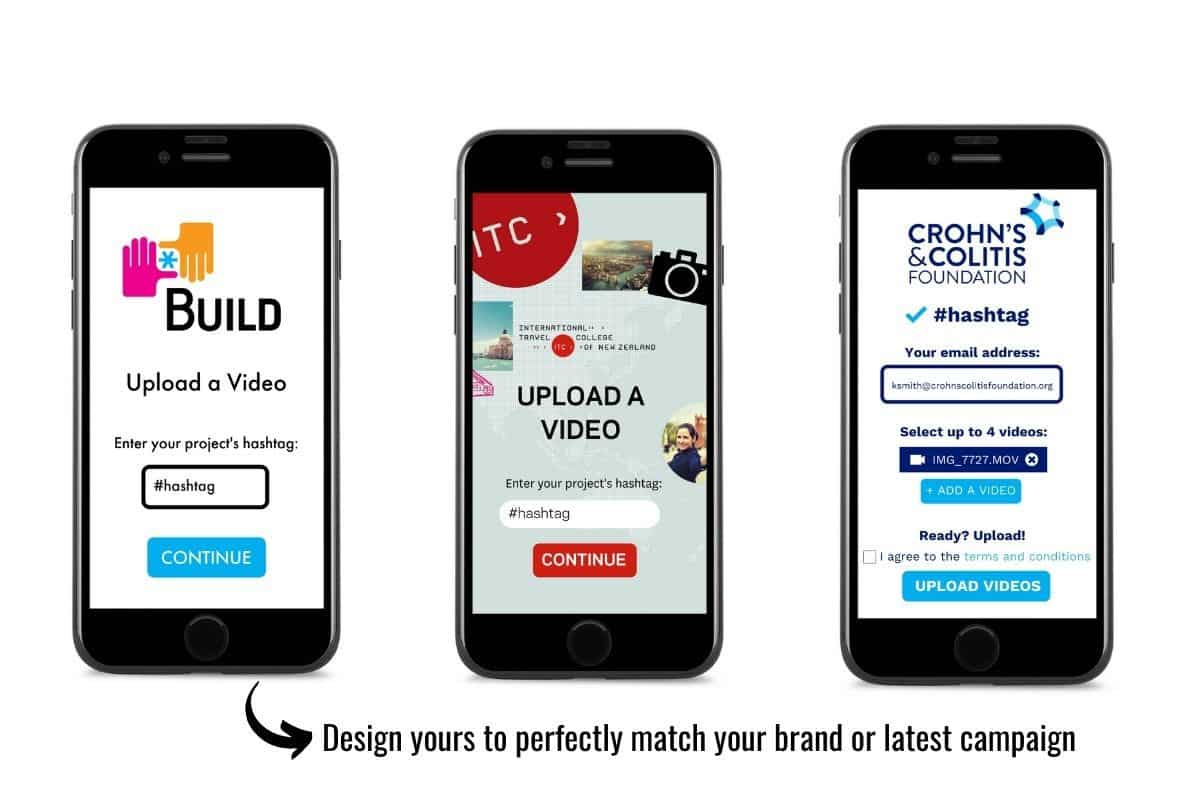 Ensure a 100% on-brand experience with a Custom Uploader:
Design an unlimited amount of Uploaders to match your brand or for specific campaigns, with matching logos, fonts, colors, and images
Built for mobile web browsers but also works seamlessly on any desktop browser
Create a custom URL to match any campaign or project
Select the additional data fields you want to collect from users like their name, location, video description, and more
Download a .CSV file of all data with one click on the Dashboard
Link to personalized legal Terms & Conditions for users to tick when uploading, so your business has instant permission to re-purpose all uploaded content
Users can upload an unlimited amount of content, up to 4 photos or videos at a time
All crowdsourced content instantly lands in the corresponding project on your Dashboard, organized by #hashtag
FAQ'S ABOUT CROWDSOURCING VIDEOS WITH EDITMATE:
HOW DO I USE THE EDITMATE UPLOADER?
Open the Uploader
Enter your project's #hashtag
Enter your email
Select up to 4 videos and/or photos
Click Upload!
Here's a 30-second video that shows you:
HOW DO I DESIGN A CUSTOM UPLOADER?
Watch this video to learn:
WHERE DO THE UPLOADED VIDEOS/PHOTOS GO?
All videos/photos are uploaded to a Mobile Uploads folder in the corresponding project, on your EditMate Dashboard. A unique #hashtag can be assigned to every project.
If a #hashtag isn't linked to a project, then the Uploader will let you know so you can use the correct #hashtag and your videos will go to the right project.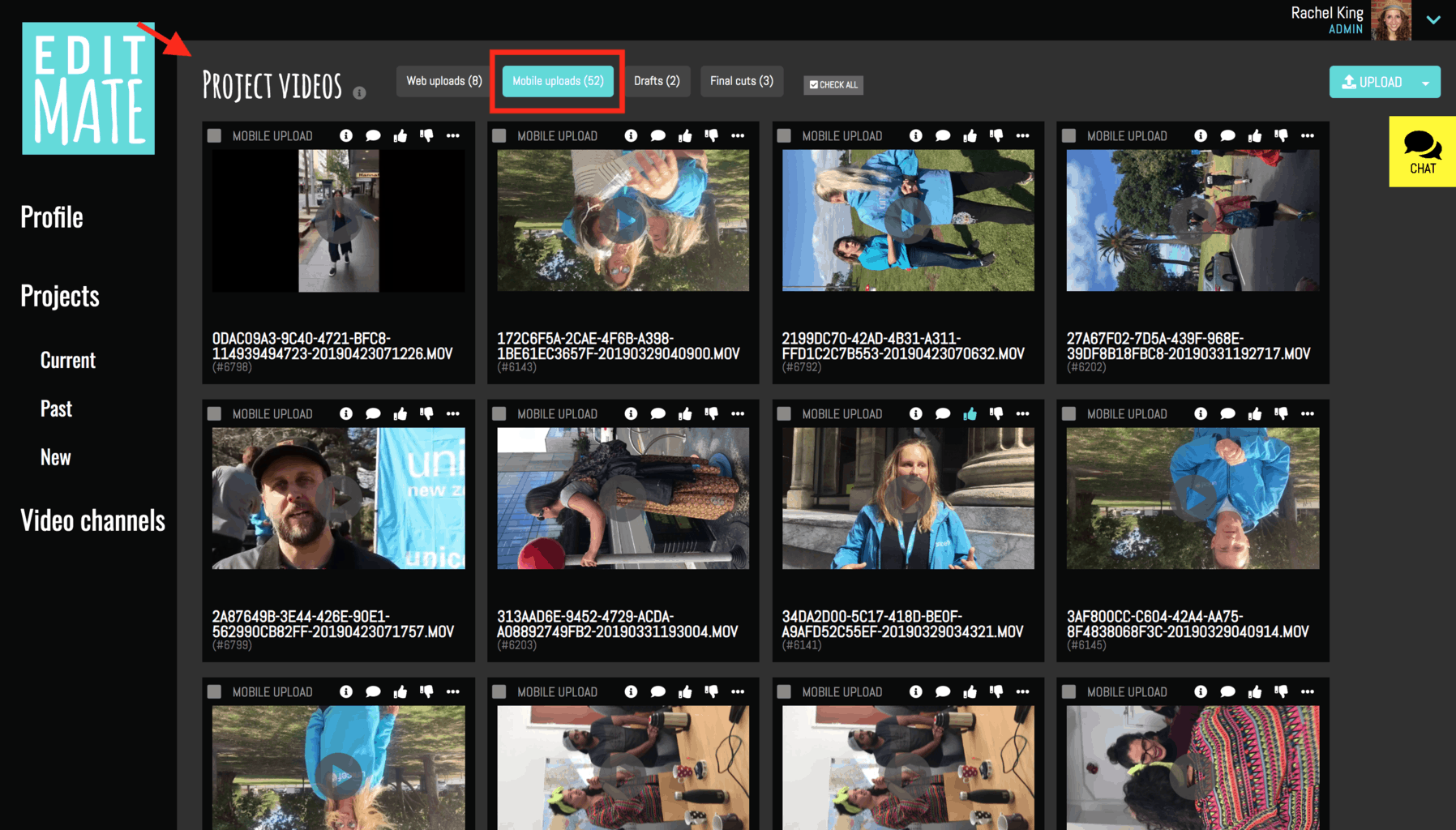 HOW DO I INVITE PEOPLE TO UPLOAD PHOTO AND VIDEOS TO MY PROJECT, WITH THE UPLOADER?
There are 3 ways:
1. Send Mobile Crew Invites from the EditMate Dashboard:
Write their email addresses in the  Mobile Crew box on your project.
And of course, be sure to include Crew Directions so they know what to film.
Click the teal envelope icon to send your Mobile Crew Invites immediately or schedule them to be sent in the future.
Your crew will get an email with a link to the Uploader, the project #hashtag, and Crew Directions.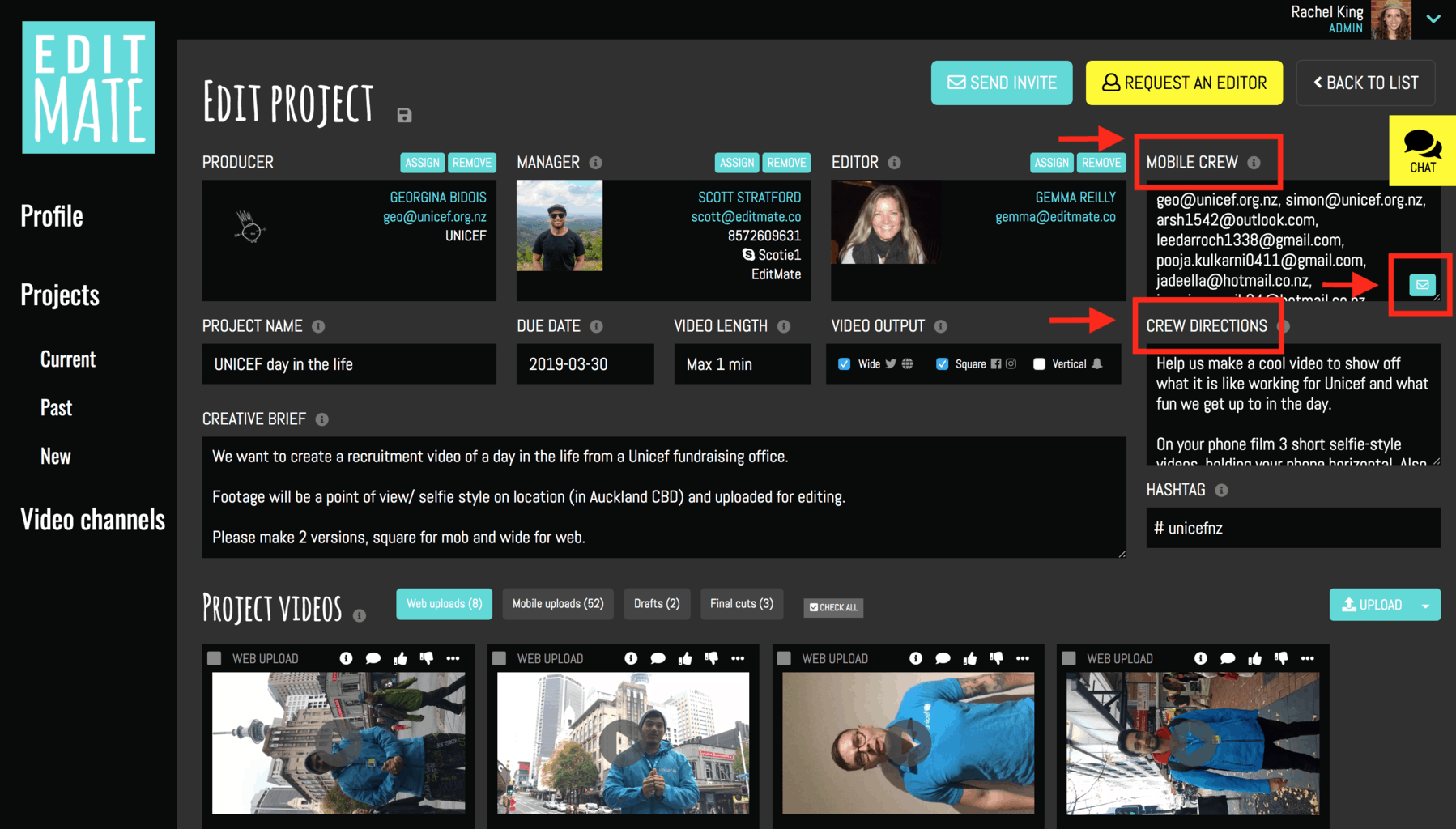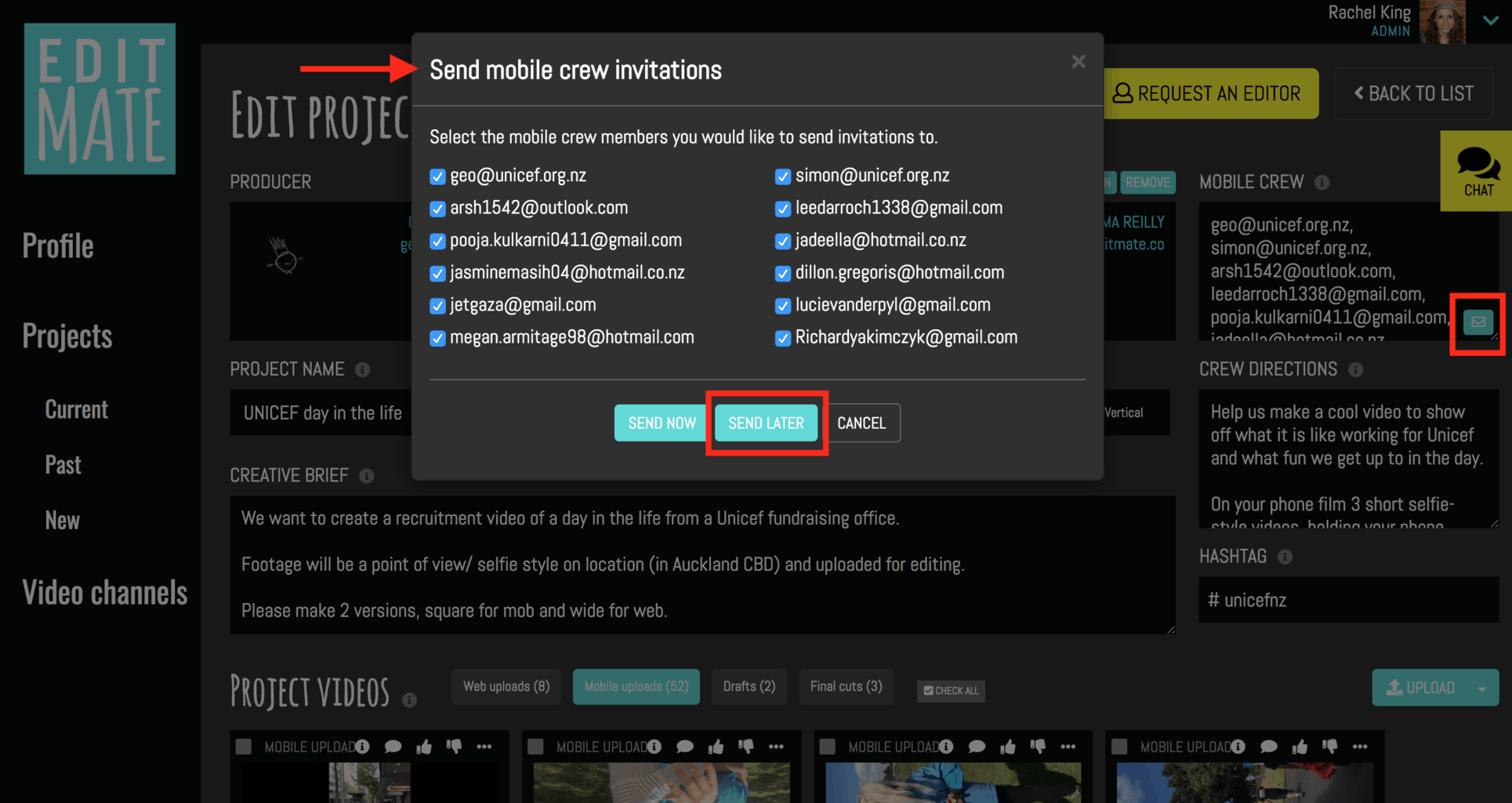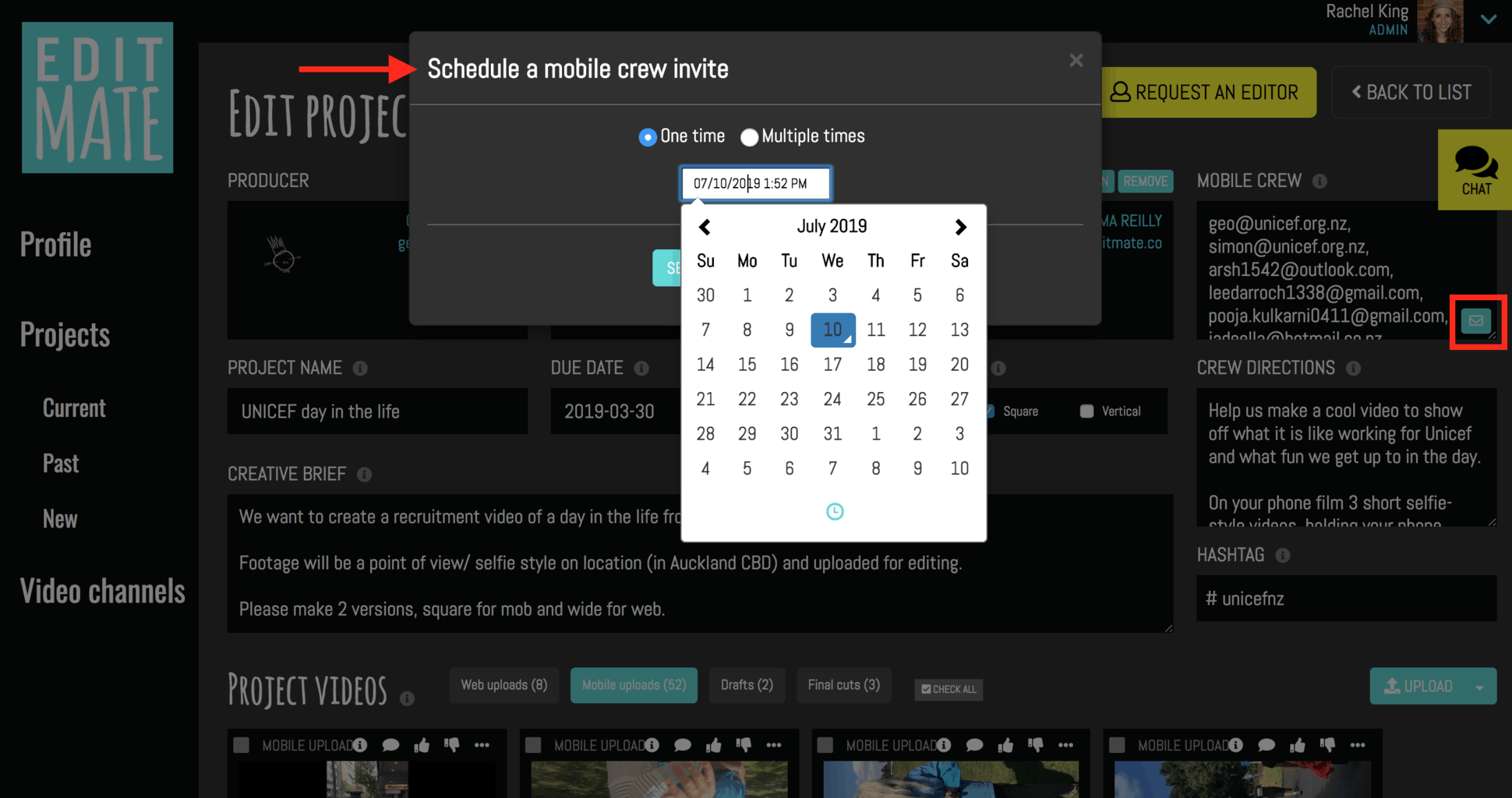 2. Put a call out on social media:
Ask your followers to contribute videos/photos and include a link to the Uploader and your project's #hashtag.
3. Just tell them the old fashioned way:
"Hey man, just go to editmate.com/upload and upload a video with the hashtag #getcreative."
"Yeah, cool bro will do."