Did you know that YouTube has 2.3 billion users worldwide? That's almost one-third of all internet users!
That means it's an excellent place to grow your audience and introduce new people to your brand.
While you can't just post a video to YouTube occasionally and expect to get lots of new customers and fans, understanding a bit of strategy and a few smart hacks can make a big difference in growing your audience.
So, today we're sharing 5 Ways to Grow Your Brand's Community on YouTube
Wherever you are on your video marketing journey, these tips will help you create better video content and reach more people…
1. PUBLISH VIDEOS CONSISTENTLY
It's important to keep consistent when publishing videos on YouTube and share them on a regular schedule, for 2 reasons.
Outlining a schedule in advance will keep your larger video strategy on track. And it will also keep your viewers engaged.
They'll be more likely to subscribe when they know that you put out new videos consistently.
Sailing La Vagabonde shares a new video every Monday. This type of consistent, episodic content keeps their audiences checking in each week to see what they've created and has earned them over 1.5 Million subscribers.
Remember to focus on quality over quantity here though…
It's better to produce 1 high-quality video per month than 1 crappy, rushed video per week.
Plan your video schedule so it's manageable for you and your team to execute. Make sure every video you publish is a worthwhile watch for your community.
HOT TIP: Our Annual Packages help our clients plan their video schedules and stay on budget, by purchasing 12, 18 or 24 projects for a discounted price. Learn more about them here.
2. PROVIDE ANSWERS TO YOUR TARGET AUDIENCES COMMON QUESTIONS
Did you know that YouTube is the second-most popular search engine after Google? It receives more searches per month than Bing, Yahoo, AOL, and Ask.com combined!
People are now typing their burning questions into YouTube, just as they do into Google.
So, a great way to connect with your target audience is by creating videos that will answer their common questions.
Think about your ideal target customer….
What questions are they looking for answers to online?
What are they interested in learning about?
Or, what topics are they likely struggling with and could use help with?
Get out the whiteboard (or shared Google Doc) and brainstorm this with your team to generate a long list of possible questions your videos can answer.
This video from NowThis combines 4 basic tips from simple talking head footage with stock photos/videos and text graphics to answer the question "How to Ask for a Raise"
HOT TIP: When brainstorming possible questions to answer on video, focus on ones that include keywords that aren't super competitive. This way, you won't have to compete with lots of other videos similar to yours.
To do this when planning your video topics, narrow your list down to 5 questions, then do a YouTube search for those questions. Note how many video results each topic has, then choose the one with the least amount of results!
3. SPEND MORE TIME ON VIDEO TITLES AND THUMBNAILS
Most people spend days working on a video and then right before they click "publish" they type in a last-minute title and choose a random thumbnail image.
This is a mistake.
Your Title and Thumbnails are HUGE factors in whether people find and click on your YouTube video.
So make sure you spend time thoughtfully planning and designing these.
HOT TIPS FOR YOUR TITLES: Make 'em succinct, intriguing, and optimized for keywords.
HOT TIPS FOR YOUR THUMBNAILS: Make 'em custom (i.e. don't just choose a random video frame, design a custom one using a tool like Canva), relevant to your video topic, make sure to utilize negative space in the image AND including a face is always a good idea, too.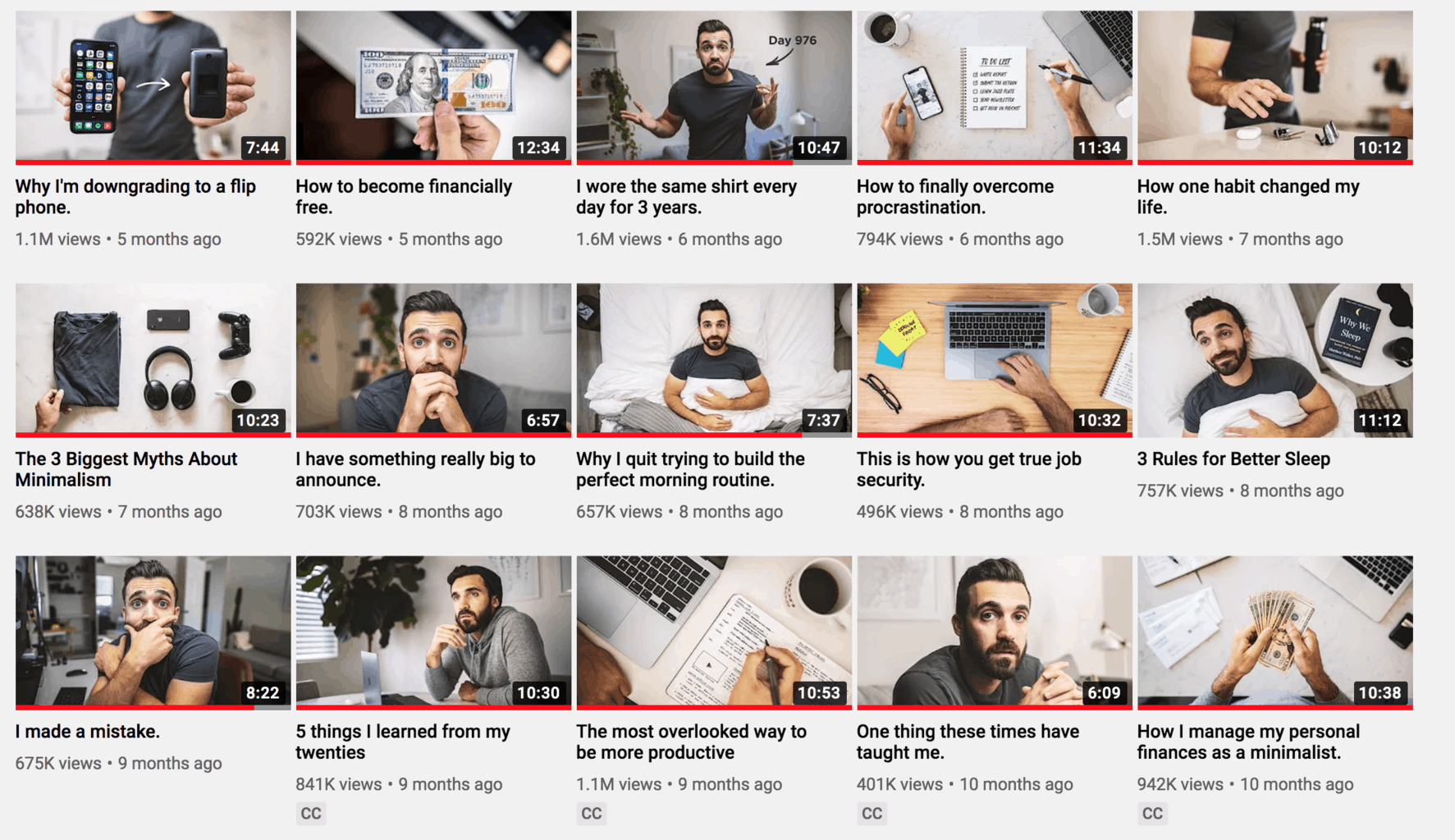 Matt D'Avella's YouTube video channel is a great example of optimized titles and thumbnails: succinct, intriguing titles and clear, relevant thumbnails that utilize negative space and often show faces.
4. PRODUCE VIDEO REVIEWS AND TUTORIALS OF OTHER TOOLS, PRODUCTS, OR SERVICES YOUR TARGET AUDIENCE USES
Like we did for tip #2, think about your target audience again…
What books are they reading?
What software are they using?
What apps do they use on their phone?
A smart way to attract viewers to your channel is by creating reviews or tutorials about things your ideal audience is already using…
2 ideas:
– Do a "book report" video outlining the major ideas of a nonfiction book your audience is likely interested in
– Create a tutorial for a helpful hack that would help your audience use an app or software they likely use (like SalesForce, ActiveCampaign, Instagram, or even Gmail)
In this video, YouTuber Ali Abdaal reviews and summarizes the self-improvement book Atomic Habits. A typical video on Ali's YouTube channel is often about how to be more productive, efficient and build good habits — so this book review is a smart way to find new viewers and introduce them to his channel that's full of content relevant to their interests.
5. OPTIMIZE YOUR YOUTUBE CHANNEL PAGE
Once you're actively adding videos to your YouTube channel, there are 3 simple things you can do to optimize your channel's actual page:
CURATE PLAYLISTS: Categorize and group your videos to allow your audience to easily find the content they'll want to watch. Do you have a series of videos that explain best practices for how to use your product? Group them all in one channel for easy access, once someone watches one they'll likely want to watch more!
DESIGN STRONG BRANDING: Create a great-looking header image that includes a compelling slogan that sums up your channel. This will pique the interest of new visitors and enable them to quickly understand what your channel is all about.
WRITE A DETAILED ABOUT SECTION: Craft a thorough About section, that explains your business, highlights your background, or shares what your subscribers can expect from your video channel.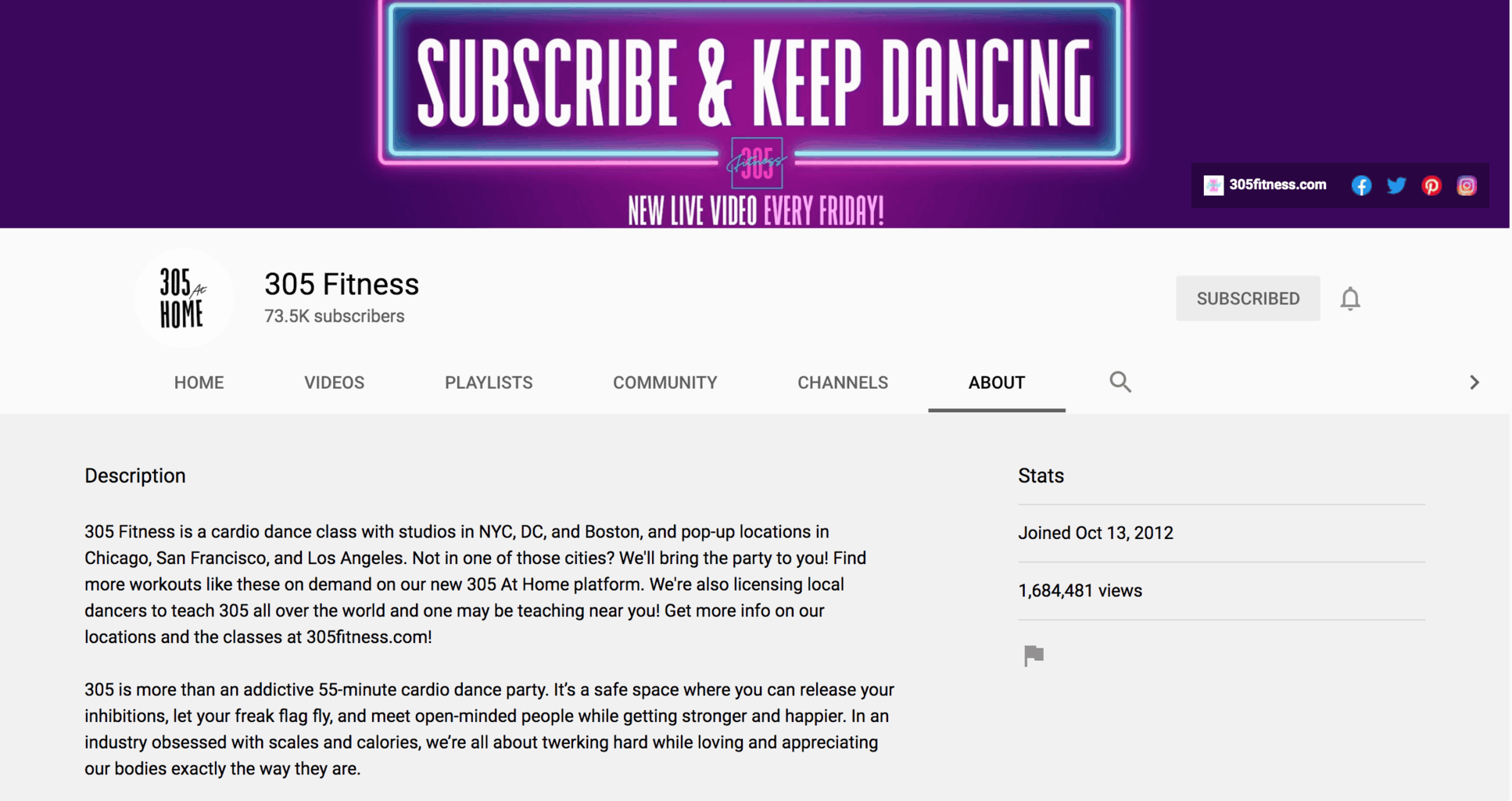 305 Fitness's YouTube Channel's page header shows off their brand, what they're all about, what you can expect from their channel (a new video every Friday), and their About page perfectly explains their story and mission.
IN CONCLUSION
It's easier than ever to shoot video…
And every day people are watching one BILLION hours of video on YouTube.
So, if you haven't gotten serious about growing your business's YouTube channel yet — now is the time to get started.
Learn how EditMate can help you create videos for YouTube by contacting us today.