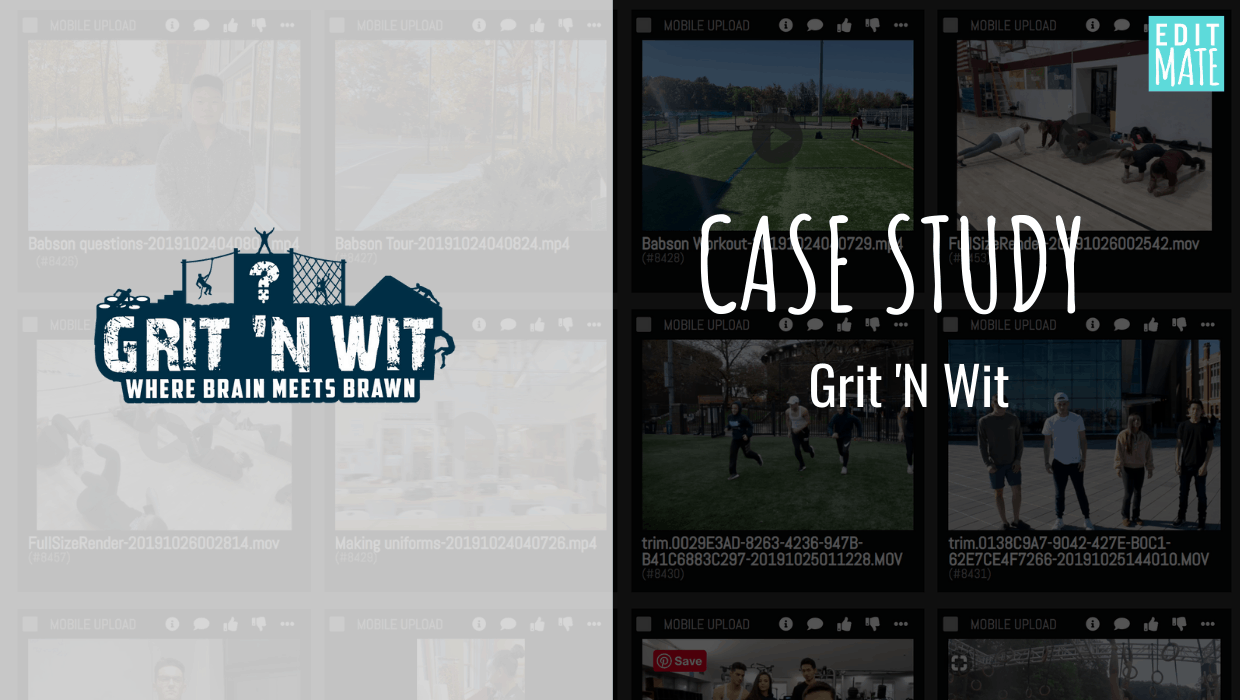 "Grit 'N Wit is a team-building challenge course that includes 16 physical obstacles and mental puzzles participants must work together to complete. We work with high schools, colleges and corporations looking to host a fun and exciting event that builds engagement and promotes teamwork.
What we offer is unique, so video is an important part of our marketing strategy. 
It has become the quickest and easiest way to help really capture what we do and to "show" rather than "tell" people.
We created two larger promo videos in the past, which was both a significant undertaking in terms of time and money. In order to produce the volume of videos that we really needed and to ensure that they were high-quality, we needed a different solution.
That solution was EditMate."
"We use EditMate for everything. We create "hype" videos to get the word out about each event, to generate excitement and drive people to register. We also use EditMate for post-event "highlight" videos.
The students who participated and are featured in the video will share them on social media and that expands our reach through their own networks, creating even more brand awareness for us. 
It's a huge added value for the schools we work with to easily have a video available that gets students excited both before the event and after the event. It's not something that anybody else is doing with video yet.
Plus, these event videos act as valuable marketing collateral for our internal team,  as they help with conversions when we're introducing Grit 'N Wit to new schools and corporations.  
We also use the raw footage and edited videos to create our own Grit 'N Wit branded content throughout the year, to recap all our events for the previous season and share it across our marketing channels." 
"Working with EditMate has made my job is easier because we now have the ability to quickly create the marketing content for colleges to push – which they love – and it takes us literally less than a minute to fill out a project form and upload footage. 
I would absolutely recommend EditMate to other business owners and marketers, for 3 reasons:
1. RESPONSIVENESS – I ask a question or send a request and it is immediately answered.
2. QUALITY – Working with EditMate has made my job easier because there's not a lot of revisions that have to be made to the videos. I tell them what I want, and they put together an amazing product. More often than not, there's literally zero changes or feedback needed.
3. PRICE – We do a large volume of videos and EditMate has made a process that would otherwise be cost-prohibitive with another video vendor, actually feasible for us. We've completed over 80 videos with EditMate. Budget-wise, If we were working with a traditional video production company, that simply would have been impossible for us."
"If you can use video for your business, use EditMate.
I have very high expectations and would rate EditMate by far and away the best company we have ever worked with.
Period. It's not even close."
Want to create videos like Grit 'N Wit?